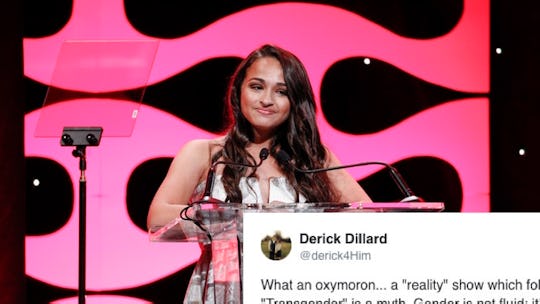 Kimberly White/Getty Images Entertainment/Getty Images
People Are Pissed At Jill Duggar's Husband For His Anti-Trans Tweet
Throughout the years, the Duggar family has been involved in a number of public controversies and scandals. On Wednesday, the Duggar family made headlines again when Jill Duggar's husband, Derick Dillard, sent out a transphobic tweet about transgender star Jazz Jennings. Following the anti-trans tweet, many TLC fans accused Dillard of bullying the 16-year-old Jennings. Dillard did not immediately respond to Romper's request for comment.
On Wednesday evening, TLC tweeted out an innocuous promotional advertisement for Jennings' television series, I Am Jazz. For whatever reason, Dillard responded to the ad with a tweet that called the transgender identity a "myth," according to E! Online. Dillard also made the claim that gender is "ordained by God," according to the Daily Mail. Fans are are now calling out Dillard for unnecessarily picking on a teenage girl and for perpetuating false stigmas that lead to transphobia.
Although Jennings hasn't responded to Dillard's tweet, her fans have come out en masse to lend their support. Some defenders even called for TLC to cancel the Duggars' spin-off show Counting On, which Dillard is regularly featured on as a cast member. TLC did not immediately respond to Romper's request for comment regarding the future of the show or whether it has comment on Dillard's comment.
To add insult to injury, Dillard misgendered Jennings, meaning he referred to her by the wrong pronoun when he defended his anti-trans stance:
Understandably, Jennings' fans did not react well to Dillard's anti-trans rhetoric — including even those who share Dillard's religious beliefs:
Unfortunately, this isn't the first time Dillard has spoken out against the trans community. On Jan. 30, Dillard expressed disappointment at the Boy Scouts of America's decision to admit transgender scouts into its troops. Dillard hailed the equality-driven measure as "sad," according to the Inquisitr.
Although Dillard's views might be jarring and upsetting to a lot of fans, Jennings has sadly become accustomed to the hate. Jennings said, according to Teen Vogue:
On every single picture on my Instagram page, you'll find a negative comment. My supporters will normally stand up to that hateful person, and then it will become a big argument, and it's just a lot. I try to tell myself not to listen to the haters, and I try not to read the comments because it's not worth it. If someone is judging you without knowing the content of your character, don't listen to them. It's not okay, I'm not going to tolerate it.
Jennings' commitment to education and advocacy is admirable, especially when you consider she is forced to confront hate on a daily basis. Although it remains to be seen if Dillard will change his transphobic views down the line, it's clear Jennings will be OK no matter what. Jennings is a strong and confident girl, and millions of fans have her back.