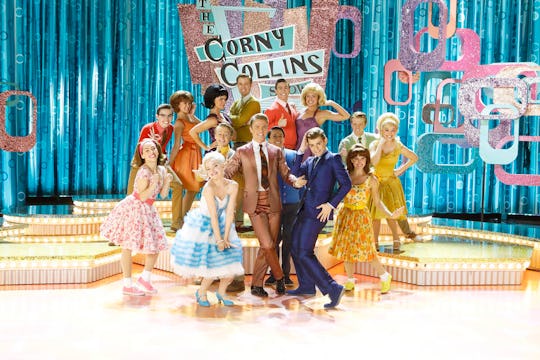 Trae Patton/NBC
People Are Comparing 'Hairspray Live!' To Trump's Presidency & The Results Are Hilarious
You might have forgotten, but Hairspray is about more than just crazy teens dancing around on TV. A big theme of the show is Tracy's fight to integrate herself onto her favorite TV program, the Corny Collins Show. And her desire to do so feels remarkably appropriate these days. In fact, people are comparing Hairspray Live! to Trump's presidency and the results are hilarious. Because the live musical takes place in "the '60s," white people often felt like it was OK to say things that it is definitely not OK to say, and television was pretty much 100-percent white people. But there's a social justice aspect to Tracy Turnblad, the show's protagonist, that some people on Twitter feel that Trump might not quite get.
In the second big musical number, the host of the Corny Collins Show, Corny Collins, gleefully announces that once a month the show hosts their "Negro Day!" which honestly kind of sounds like the sort of thing Trump would think is a tremendous idea. Some other early gems from characters in the show include Penny's mother telling Edna Turnblad not to let their kids watch "black music," and Velma advising Corny to play less "Detroit" sound. After all, these are the "whitest kids in town." Twitter has been having a field day with this and it is glorious:
I'd like to say that this is all exaggeration and a little too much and blah blah blah, but if I'm being serious, Trump's America kind of does sound like it's going to be like what we're seeing here on Hairspray Live!
Basically, Hairspray is a giant, technicolored, and heavily hairspray-ed ode against all of the things Trump campaigned on. He's a flaming misogynist who's repeatedly mocked women for their appearance and called them things like "fat pigs," not to mention the raging racism found throughout his campaign. Remember that time he said "the blacks"?
It's hard not to feel like we've heard all of this before, and we're not talking about 50 years ago, when Velma says things like "steer them in the 'white' direction." You can be sure that Velma would be totally in favor of a registry of all Muslim Americans. But luckily, Trump does not represent all of us, and we can watch Hairspray Live! and take comfort in the fact that though it may not feel like it, we have, in fact, moved on since the '60s. And Trump can't take us back there.