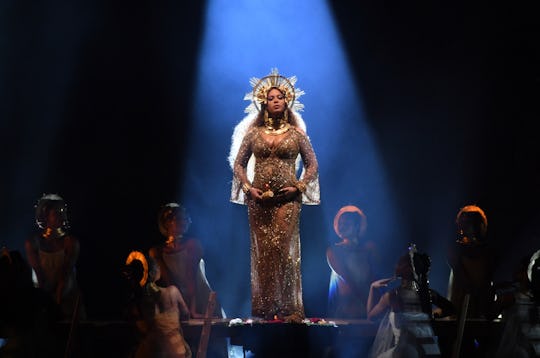 Kevin Winter/Getty Images Entertainment/Getty Images
So, This Wax Figure Of Beyoncé Looks Nothing Like Beyoncé
It's hard to capture Queen Bey's inimitable essence in an imperfect medium like wax sculpting. Still, people try, some with more success than others. And on Tuesday night, a photo started floating around Twitter of a supposed Beyoncé wax figure that looked... well, nothing like Beyoncé. Needless to say, her fans were very confused.
It all started when one Twitter user posted a picture of a wax figure, writing, "Beyonce' wax figure at @MadameTussauds is FIERCE!" Immediately, members of the Beyhive chimed in with some strong disagreement. Maybe it was the angle of the photo. Maybe it was the lighting. Maybe it really was as off as it seemed. Whatever the reason, the supposed Beyoncé wax figure in the photo looked like it had been whitewashed to the extreme. Or, as one Twitter user put it, "Why does this Beyoncé wax figure look like Lindsay Lohan if she were an Instagram model?"
Romper reached out to famous wax museum and tourist spot Madame Tussauds to confirm the intended identity of the wax figure, as well as its location, and did not immediately hear back. So it's possible that this is just a clever bit of trolling. But even if that's the case, it wouldn't be the first time that Beyoncé wax figures sparked outrage for their total failure to imitate the music legend.
Allure Editor in Chief Michelle Lee posted her own theory to Twitter, that "Beyoncé wax figure makers have never seen Beyoncé." After looking at the accompanying photo examples, I'd buy it. One, from a Canadian wax museum, was so off that museum staff seemingly had to stick a name tag on it so that visitors could understand who they were supposed to be looking at.
Other people who seemed to bear a stronger resemblance to the wax figure in Tuesday's photo than Beyoncé did included, according to various Twitter users, conservative political commentator Tomi Lahren, Mariah Carey, Britney Spears, and "some thick necked white country singer."
If you've got to pick one Beyoncé wax figure to admire, it seems like the option at the San Francisco Madame Tussauds is the way to go. But hey, maybe the Lemonade singer just isn't meant to be captured in this particular form. After all, no wax figure could possibly live up to the glory of her in the photo she released with her newborn twins.
Better luck next time, anonymous wax figure sculptor.