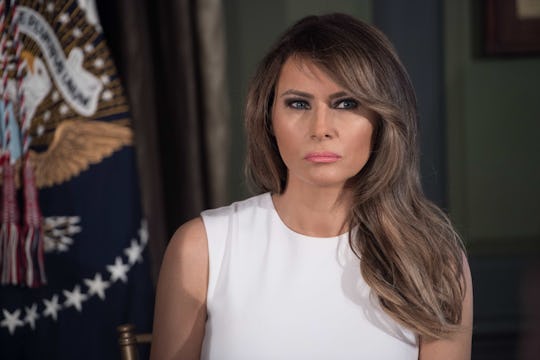 NICHOLAS KAMM/AFP/Getty Images
People Are Criticizing The Shoes Melania Trump Wore To Texas, & It's Absurd
On Tuesday, President Donald Trump arrived in Corpus Christi, Texas, to survey some of the damage caused by Hurricane Harvey. The first lady joined him, but she was met with ridicule on social media for a ridiculous reason. Melania Trump's footwear choice in Texas was the subject of critique on Twitter, because, really, people didn't have anything more important to talk about? Apparently, when the Trumps set out for Texas from Washington, D.C., Melania chose to begin their trip wearing a rather impractical pair of black stilettos. And the internet was none too pleased with her fashion choices.
Although Melania boarded Air Force One on her way to tour the flooded region in Texas in the stylish heels, according to The Hollywood Reporter, she deplaned in a pair of white sneakers that are probably more comfortable for touring a disaster zone.
While in Texas, President Trump will speak with local, state and federal emergency management officials. He was accompanied by Melania for the trip, which includes a stop in Austin, and they will meet with top officials in the state there, including Gov. Greg Abbott, according to The New York Times. But the fact that Melania joined her husband for the journey, which is arguably a respectable and necessary move on her part as the first lady, was rather overshadowed by people criticizing what she wore on the trip.
President Trump did not change out of his original outfit of a windbreaker, khakis and work boots which he departed D.C. in, according to The Hollywood Reporter. But it's really anyone's guess whether Melania was always planning on changing into the second outfit, or whether, as the outlet seemed to suggest, criticism on social media prompted a premature wardrobe change.
But honestly, does it really matter? Is it really such a strange thing that the first lady would leave the Capitol in a fairly fashionable look that included heels? Maybe she just likes heels, but decided the sneakers were more appropriate given the occasion. I can definitely say that I've switched outfits over the course of a trip, and frankly, I have nowhere near the number of fashion options that Melania does.
Listen. There are plenty of things to criticize Melania for. As HerCampus has pointed out, she will speak out against online bullying while at the same time remaining silent when her husband attacks people like Meryl Streep or the Mayor of London, Sadiq Khan, on Twitter. And most of us remember the allegations that she plagiarized parts of her speech at the Republican National Convention in 2016 from Michelle Obama's speech at the Democratic National Convention eight years earlier, according to USA Today. The Trump campaign issued a statement at the time in regards to that incident, from Senior communications adviser Jason Miller, which read:
In writing her beautiful speech, Melania's team of writers took notes on her life's inspirations, and in some instances included fragments that reflected her own thinking. Melania's immigrant experience and love for America shone through in her speech, which made it such success.
And there are definitely other critiques that can be made of the current first lady. But #StilettoGate is the one that has Twitter up in arms?
I really didn't think I'd be defending Melania today, to be honest. The first lady's done a lot of problematic stuff that shouldn't be downplayed, and they're all things that I'm certainly willing to evaluate.
But it's really kind of gross to pick apart what any woman chooses to wear — and let's not forget that Michelle Obama also faced fashion critique, so this isn't exactly a new ordeal for a first lady to deal with. But first of all, Melania did change into something a bit more appropriate before arriving in Texas, and, more importantly, there are other much important and valid reasons that Melania might be "out of touch" with most of America, as many have argued.
There are other things we can focus on in general in the news besides Melania's What Not To Wear moment — like the situation in Texas, where severe weather is still wreaking havoc and where, hopefully, a visit from the president and his wife doesn't divert too many resources.
I know it can seem like there's a lot to be outraged or disappointed by when it comes to politics today, and when dealing with the Trump administration in general. Can we maybe give Melania's shoes a pass?