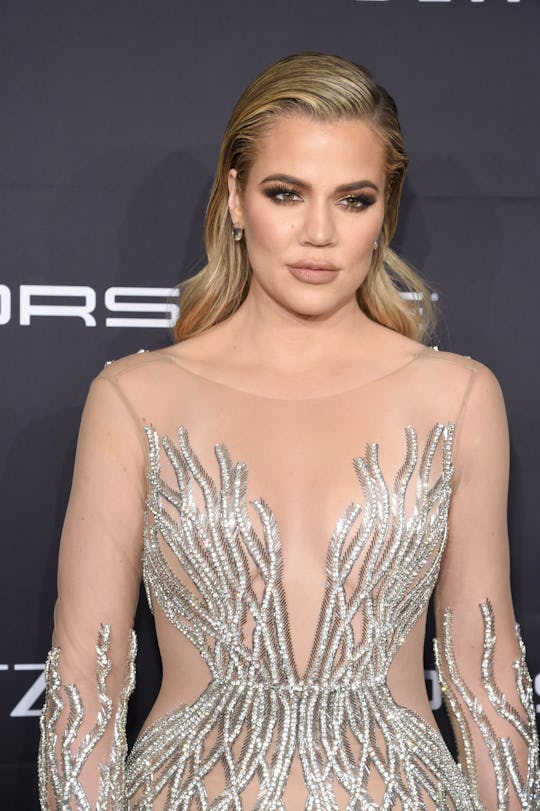 Jamie McCarthy/Getty Images Entertainment/Getty Images
Why People Are Dragging Khloé Kardashian For Her Pregnancy Announcement
If you haven't yet heard — and, if that's the case, you're living under a rock — Khloé Kardashian finally revealed her pregnancy yesterday via social media. The Keeping Up with the Kardashians star confirmed that she and her Cleveland Cavaliers power forward boyfriend, Tristan Thompson, are indeed expecting their first baby, according to People. And, while fans have been congratulating the reality TV star, who has called the news her "greatest dream realized," there are still a lot of people evidently angry that she "faked" fertility issues, according to the comments threads on her social media. To that, Khloé has clapped back (benevolently). She's tweeted a response to someone this morning saying she didn't lie about her struggle, and noted that she actually wasn't the one with fertility issues.
Khloé made the big announcement via Instagram on Wednesday by posting a photo of both her and Thompson's hands on her baby bump. "We are having a baby!" she wrote. "I had been waiting and wondering but God had a plan all along. He knew what He was doing. I simply had to trust in Him and be patient." She also thanked Thompson for making her a mommy and making the experience "even more magical than [she] could have envisioned."
For years, Khloé, 33, has been outspoken about her plans to start a family. Refinery29 reported that Khloé has previously spoken out about the rumors of her being jealous of her sisters' fertility. She told Redbook, according to Refinery29, that she didn't regret not having kids at that time, which was when she was married to Lamar Odom, but she did wish people would stop asking her about it as frequently as they did.
It was hard for me to understand what was happening because my mom had six kids and Kourtney got pregnant quickly. People assume I'm desperate for a baby. And yes, I would love to have a baby. But I'm 28, and I've been married three and a half years. I love my life, but it doesn't feel incomplete right now.
In a March 2016 episode of Kocktails With Khloé, she even shared that she had tried In Vitro Fertilization (IVF), according to Refinery 29. But in true plot-twist fashion, Us Weekly reported in June that, in the season finale of Keeping Up with the Kardashians, she told Dr. Andy Huang her past pregnancy attempts were illegitimate. She said during the aired reproductive evaluation:
I fake tried. I was married, so I knew the circumstances weren't the healthiest, so I kept pretending I was doing it. I had to stop because there was much deeper stuff going on in our marriage… I knew it wasn't the right situation to bring a child into… I've done a lot of covering up for him.
Ever since then, however, followers have accused Khloé of faking infertility, which affects about six percent of women ages 15 to 44 in the United States, according to the Centers for Disease Control and Prevention (CDC). About 12 percent of women of the same ages also have difficulty getting pregnant or carrying a pregnancy to term. The issue is therefore a hyper-sensitive one, and some Twitter users are now discrediting the star's struggle to become pregnant in the first place.
They've tweeted that she was "faking infertility and was on BC the whole time," and that she was faking it so she "couldn't have a baby in the environment [she] was in."
In response, Khloé tweeted that she certainly was not faking it. She did all her treatments but later realized that she, fortunately, "was NOT the one with the issue at the time."
In Khloé's address to the claims that she was lying, she reminded fans that "it takes two to have a baby." Regardless, Khloé's reproductive ability (or inability, if that were still the case) is, frankly, no one's business but her own. What matters now is that she's pregnant, happy, and healthy. And some fans are certainly expressing excitement for her now that she's finally got a bun in the oven.
For those supporting fans, Khloé says she's thankful. She shared a follow-up tweet explaining how nervous she was to post their announcement, and how overwhelmed by the responses she now is.
So rather than worrying about whether or not she and Odom could have ever actually had a baby together, can we all just rejoice in the present moment and the fact she and Thompson actually are — and in a healthy relationship, no less?
Editor's note: After publication, we discovered this article did not meet our editorial standards. There were portions that did not correctly attribute another source. It has been updated to meet our standards.
Check out Romper's new video series, Romper's Doula Diaries:
Watch full episodes of Romper's Doula Diaries on Facebook Watch.