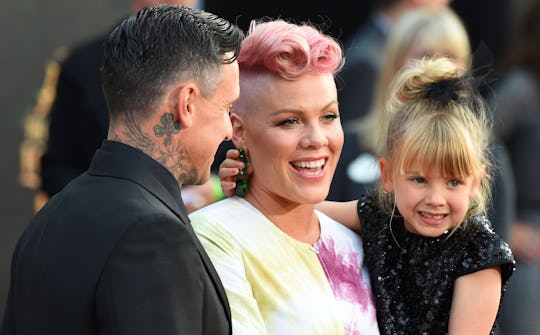 ROBYN BECK/AFP/Getty Images
People Are Dying Over Pink's Daughter In A Matching Suit At The VMAs
Pink has a big night ahead of her at the 2017 MTV VMAs. The musician will be joining the likes of The Beatles and Beyoncé to receive the 2017 Video Vanguard Award. But first she had to walk the red carpet, and people are dying over Pink's daughter wearing a matching suit with her mother before the show began.
Pink showed up on the red carpet looking as dapper as could be in a three-piece suit and tie, looking ready to accept what might be the biggest award of the night. And while she was on the red carpet, Pink gave a little tease to what her performance might entail. But there was something much better worth paying attention to — Pink's 6-year-old daughter, Willow, and Pink's husband, Carey Hart, standing in the background and wearing matching suits to Pink. Willow could not look any more amazing or more like a spitting image of her mom and dad who all looked so handsome together.
Photos of them from the red carpet show just how picture-perfect the family could be, and how they all came out in full force to support Pink and her performance for the evening. Seriously, they might be the best dressed family on the carpet (and that's saying a lot, because DJ Khaled's son was there).
Noticeably absent from the family's appearance on the red carpet was Pink and Hart's young son, Jameson, who is almost a year old. But it's understandable that they would leave him home since the VMAs are not necessarily the best place to bring an infant.
Still, Pink, Hart, and Willow looked absolutely perfect together as a family. And it sounds like they're just as strong off the red carpet as they are on it. Pink is a huge fan of sharing photos of her family to her Instagram account doing completely real and normal things — from making dinner together to hosting a lemonade stand to breastfeeding Jameson. It's as if Pink's family is completely normal (aside from the fact that Pink has had an expansive, award-winning, music career spanning 17 years).
But Pink and her family weren't always full of smiles. In January, in an interview on The Ellen Show, Pink told host Ellen Degeneres that Willow had been "a little weepy" in the days following her baby brother's arrival, but it appears that Willow is now well adjusted. In May, Pink shared the sweetest photo of Willow cuddling up to Jameson. Nothing but love for these two.
Pink's family looked absolutely perfect on the VMA red carpet (but it's OK since they're absolutely adorable off the carpet, too).