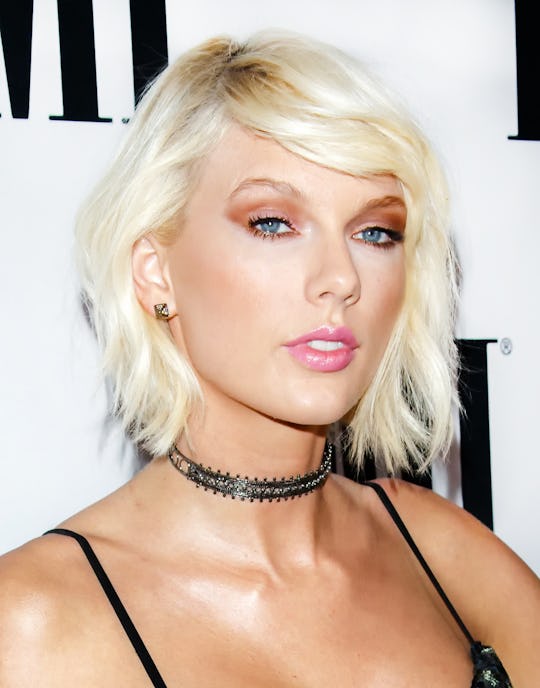 Mark Davis/Getty Images Entertainment/Getty Images
People Are Freaking Out About "Dress" Because It Is *Explicitly Sexual,* Y'All
Remember when Taylor Swift had a no-midriff rule for all her costumes and dresses? I do. There was an actual internet debate over whether she had a belly button. Around the same time, she appeared at an awards show in a revealing dress that had been filled in with that flesh-colored netting they use in ice-skater costumes. Oh how things change. Of all the tracks on Taylor Swift's new album, Reputation, the one that has people the most shook is "Dress," which is actually pretty, uh, sexy and explicit.
Taylor Swift's own father reportedly couldn't handle the lyrics in the song, which talks about a drunken night spent making out in a bath (all very high-difficulty, can we agree). We were teased as to the explicitness of the lyrics when Swift held a fan session to give some sneak peeks into the album. At the time, fans told reporters that the songs convinced them that Taylor Swift "is living her best, unapologetically honest life." And this song is nothing if not honest. To be clear: Swift's lyrics are always up for interpretation, but in this case the lyrics are literally, "They got no idea / About me and you / There is an indentation / In the shape of you." And that is just the start of it.
Lest we forget, Swift is now 27, that storied age for rock 'n' rollers (usually, it's the age they die, but in Swift's case, it's the age she got on her choker necklace and dropped some lyrics wild enough to turn people's ears red). In celebrity years, she's basically 40. So we shouldn't be shocked that she is alluding to sex. And yet:
All of this silence and patience, pining and anticipation
My hands are shaking from holding back from you (ah, ah, ah)
This reads like the YA novel we all need.
And that isn't the bit that is setting everyone on edge. In case you wondered if the good Taylor of old was still in existence — that maybe she was at least going to have sex with her bra on or keep her midriff out of it, we get this saucy lyric:
I'm spilling wine in the bathtub
You kiss my face and we're both drunk
Code red: It's (maybe) bath-tub sex. If Swift's persona here has clothes on, then she's much, much stranger than we thought. More likely, the lyrics imply everyone is nekkid.
Upping the heat further, a lot of fans think that Swift is talking about Ed Sheeran in this song. To wit, she talks about him having a buzz cut and her having bleached hair when they met. Then there is this:
I don't want you like a best friend
Only bought this dress so you could take it off, take it off (ha, ha, ha)
Carve your name into my bedpost
"Lyrics are a shock coming from Taylor omg," writers Twitter user @angelharmonies — probably actually Taylor's dad using a covert avi and handle.
There's a lot to unpack, but the bit that has fans poring over its every syllable is this one:
You made your mark on me, golden tattoo
This could be metaphoric, obviously, although the rest of the song seems deliberately explicit (I am 99% sure the bath tub is a metaphor for a bath tub). In which case, we should all get on the hunt to track down this actual real literal golden tattoo.
Karli Kloss? Wha? I just... huh?
Whatever the exact cosmic meaning of the sexually explicit lyrics in "Dress," I think we can all agree that in Reputation, Swift is carving out a new one.
Check out Romper's new video series, Romper's Doula Diaries:
Watch full episodes of Romper's Doula Diaries on Facebook Watch.