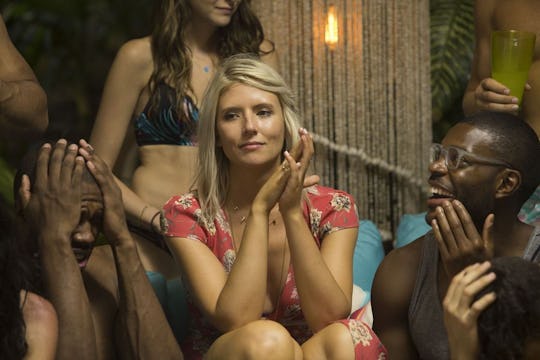 Paul Hebert/ABC
Wells & Danielle M. Shared A Special Moment On 'Paradise'
Sadly, Danielle M.'s tenure on Bachelor in Paradise Season 4 was short-lived. The neonatal nurse from Nashville got an opportunity to go work in Kenya and, since she wasn't really feeling a spark with anyone on the show — save for a certain bartender who was adamantly unavailable for dating — she decided to jump on the opportunity and leave the show. But just before she got into the car to drive away, Wells Adams laid one very romantic smooch on her. And people are freaking out about Wells and Danielle M. kissing on Bachelor in Paradise.
Wells came on this season to replace the beloved Jorge the Bartender, who was leaving after three faithful seasons of serving the show to pursue his own dreams of starting a tour company in Mexico. Wells was a fan favorite contestant from JoJo Fletcher's season of The Bachelorette, who first took a shot at Paradise last season. He had a brief fling with Ashley I. last summer but things didn't last, and now, he's probably best known for his hilarious Snapchats recapping Bachelor franchise episodes as they air. (Think of him as the Leslie Jones Game of Thrones live-tweeting of The Bachelor.) But people were thrilled that he broke his self-imposed, single-and-unavailable status to kiss Danielle.
It was made extremely (and almost suspiciously) clear that Wells would not be available for dates this season; he was only there to bartend and give counsel. But his longstanding friendship with Danielle M. sort of sparked into more as the season went on. They're both from Nashville, where they were friends even before they went on their respective seasons of The Bachelor/The Bachelorette. We actually learned that they went on a date once like, four years ago, but it never developed into anything romantic, and then neither of them wanted to ruin their friendship by risking a romance.
But Danielle started wondering pretty early on whether she'd made a mistake by never pursuing anything with Wells. She kept voicing a concern that maybe her person had been "right under her nose" this whole time. But they never really made a move on each other (probably they couldn't due to Wells' bizarre no-dating restriction) until Danielle's final moments on the show. She saved her goodbye to Wells for last, and as he walked her to the car, he stopped to tell her that, of all the people in paradise, she deserved to find love the most, and he was sorry that she didn't. Then, he planted a huge, steamy kiss on her and sent her on her way.
Fans who had been shipping their will-they-or-won't-they vibe from the beginning obviously celebrated, and from the looks of Danielle and Wells' Instagram posts together, we may have reason to hold out hope for these two.