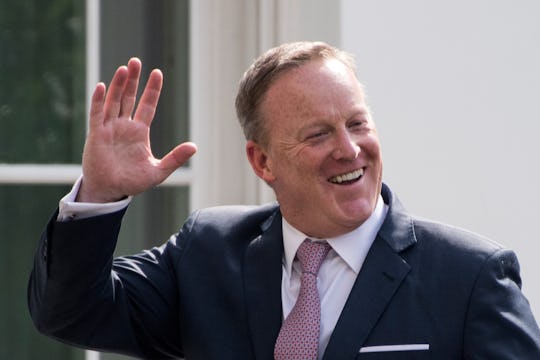 JIM WATSON/AFP/Getty Images
People Are Freaking Out Over Sean Spicer's Appearance At The 2017 Emmys
Surprise guests are somewhat expected at awards shows, but some are slightly bigger surprises than others. For example, when a much-maligned and recently ousted White House official shows up — that's a big surprise. Which is why people are freaking out over Sean Spicer's appearance at the 2017 Emmys.
When Sean Spicer was still the Communications Director at the White House, Melissa McCarthy did what she does best, and absolutely destroyed the guy on Saturday Night Live. Her impression of the podium-wielding, gum-chewing head of Donald Trump's press shop was so dead on, it became an instant classic — the kind of skit that lives on in inside jokes for decades after the fact. McCarthy later reprised the skit again, riding around on a motorized podium all around New York City, dressed as the grim-faced "Spicey" as he came to be known in the media. It appears that this is the very podium that Spicey himself rode out onto the Emmys stage as host Stephen Colbert introduced the one and only Melissa McCarthy (it's a joke). And then, rather predictably, people lost it. Particularly those on the left side of politics seemed unwilling to forgive Spicer, even if he is able to laugh at himself.
Early reports suggested that McCarthy's impression, which involved a CNN reporter trapped in his underwear in a cage as well as a Super Soaker, had succeeded in rattling the White House. Granted, getting under the executive skin these days isn't exactly difficult to do, but it's possible that this skit struck a particularly sensitive nerve, at least according to Politico. The outlet claimed "more than being lampooned as a press secretary who makes up facts, it was Spicer's portrayal by a woman that was most problematic in the president's eyes, according to sources close to him." That may very well be the case, but it looks like Spicer, in any event is trying to be light-hearted about it. Obviously.
In reaction to the cameo appearance, everyone seemed to agree that Anna Chlumsky's open-mouthed stare of bald shock was the very best. Watching her twist all the way around to be sure she really did see what she really just saw was basically what all of us were thinking. It's difficult to argue with that. But everyone seemed pretty amazed.
Spicer joked on stage, "This will be the largest audience to witness an Emmys, period! Both in person and around the world." Colbert responded saying, "Wow, that really soothes my fragile ego. I can understand why you'd want one of these guys around." It was nice, I suppose to see Spicer at least acknowledge what everyone everywhere says about him. Colbert later also called him the "wizard of lies," the name of the HBO program about Bernie Madoff that Robert DeNiro is nominated for.
By the way, this is not the first time that Spicer has tried to soften his image on television. If you remember, Spicer was a guest of Jimmy Kimmel Live! after he resigned from his position in the White House where — of course — he addressed the skit and how he felt about it. He basically laughed the whole thing off without saying too much about Trump in particular. "It cost me a lot in therapy," he joked, adding "that was kind of funny."
Now, of course, my only remaining question is why exactly Spicer is trying to be so cool about the SNL skit. I hope he knows that if he's trying to use this to run for some sort of elected office, I'm still not voting for him, no matter how open he is to being mocked.
Watch Romper's new video series, Romper's Doula Diaries:
Check out the entire Romper's Doula Diaries series and other videos on Facebook and the Bustle app across Apple TV, Roku, and Amazon Fire TV.