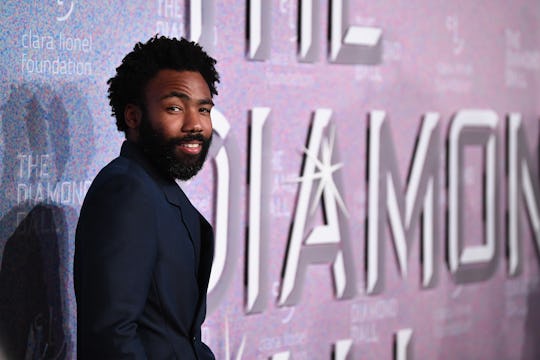 Dimitrios Kambouris/Getty Images Entertainment/Getty Images
People Can't Stop Talking About Teddy Perkins At The Emmy Awards
People initially thought Donald Glover showed up to the Emmys as Teddy Perkins, but he was later spotted in the crowd. If you tuned into the 2018 Emmys on Monday night, you probably noticed a peculiar — or perhaps familiar — figure sitting in the crowd. And by peculiar, I mean downright creepy. So, who is this mysterious person? As it turns out, the character is none other than Teddy Perkins, a strange character that made a cameo in Season 2 of Atlanta. And needless to say, people are really intrigued by Teddy Perkins' attendance at the Emmys because it's not clear who he actually is.
If you're not familiar with the story of Teddy (it's OK, I wasn't), you probably had a lot of questions when NBC's cameras panned to a pale, gaunt, and bizarrely dressed man during the outstanding lead actor in a comedy series segment. Heck, the guy even hugged Barry star Bill Hader at one point — that means he has to be somebody important, right? If you answered "yes," you are correct. In fact, Teddy Perkins is one of the most talked about television characters in recent history.
Teddy — played by Glover — first appeared in Season 2 of Atlanta when the character of Darius visits a home to pick up a free piano owned by a famous musician named Benny Hope. To Darius' surprise and likely horror, a strange looking (emphasis on strange) man named Teddy answers the door, leading to a series of *creepy* events.
Throughout the episode, Teddy engages in bizarre behavior, like going on about his abusive father and eating a soft-boiled ostrich's egg, for example. But things take an especially sinister turn when Teddy mentions his brother Benny, a wheel-chair bound man with a bandage covered face. Teddy tells Darius that he can't meet Benny due to his rare skin condition.
Darius eventually gets to meet Benny, however, when an elevator malfunction takes him to the home's basement. While an unaware Teddy is upstairs, Benny scrawls on a chalkboard to Darius that "Teddy kill us both" and that he should get a loaded gun from the attic.
Darius then attempts to leave, but his plot his foiled when Teddy appears with a shotgun. Teddy informs Darius he intends to kill him and make it look like a botched home invasion. Teddy forces Darius to handcuff himself to a chair, signaling to the viewer that his end might be near. But Darius is saved when Benny appears with a gun, shooting Teddy before turning the weapon on himself. Thankfully unscathed, Darius escapes from the house.
The episode and the character of Teddy received critical acclaim across the board. And given Glover's creepy portrayal of Teddy to the conversations it sparked about race, it's really no surprise the episode was nominated for three Emmys, including: outstanding directing (Hiro Murai), outstanding editing for a comedy (Kyle Reiter), and outstanding cinematography for a comedy (Christian Sprenger).
But what is surprising? Teddy's random appearance at the Emmys. And what's even stranger is that Glover initially made it seem like he donned the getup, a theory that later proved to be false. Although it's unclear who played Teddy at the Emmys, what is clear is that the cameo sparked a ton of conversations on Twitter.
"Wait, Teddy Perkins is in attendance at the Emmys so 'Atlanta' wins the whole ceremony," someone wrote.
"I would like to take this moment to scream 'WE COULD HAVE GOTTEN A TEDDY PERKINS ACCEPTANCE SPEECH' at the TV Academy," one person joked.
One confused commenter chimed in: "WHEN DID DONALD GLOVER CHANGE BACK? DID HE HIRE SOMEONE ELSE TO COME AS TEDDY PERKINS?? IS TEDDY PERKINS REAL???"
"The only thing more intense than Teddy Perkins being in the front row of the Emmys is trying to explain to someone who doesn't watch Atlanta who Teddy Perkins is," Parks and Recreation star Ben Schwartz penned.
"Teddy Perkins will haunt this awards show reminding everyone one of the best seasons of anything ever got no wins tonight," an Atlanta fan said.
"soooo whoever is at the [Emmys] dressed like teddy perkins can't be donald glover 'cause.... right?" one user captioned a shot of Glover in the audience.
Translation: Teddy Perkins' appearance at the Emmys had people shook. Even if Glover wasn't behind the mask, it's hard to deny this bit wasn't a big — albeit strange — success.
This post has been updated.