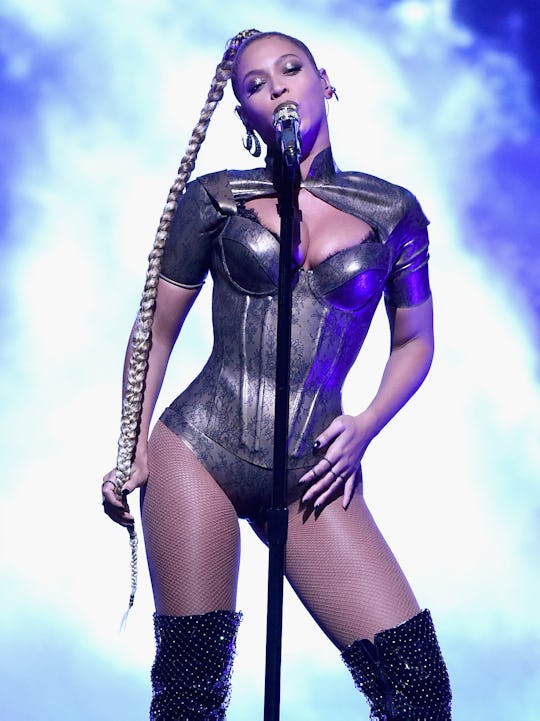 Theo Wargo/Getty Images Entertainment/Getty Images
People Are Freaking Out That Beyonce's Twins & Trump May Share A Birthday
Beyoncé Giselle Knowles-Carter is, at the risk of sounding dramatic, the shining light our nation needs nowadays. In a politically turbulent climate, Beyoncé has given us exactly what we needed in the past month — something good to focus on. Actually, she gave us two Something Goods to focus on, her twins, Sir Carter and Rumi. After a month of silence, Beyoncé has introduced her twins to the world by means of a beautiful photo. And while some fans are obsessing over the photo, others are freaking out that Beyonce's twins and Donald Trump may share a birthday.
On June 14, 2017, President Donald Trump turned 71. On the same day, according to some fans, Beyoncé gave birth to Rumi and Sir Carter. While the theory is only working off of an Instagram caption Beyoncé paired with her epic babies photo, many have seemingly convinced themselves that this is true. Beyoncé's twins may share a birthday with Donald Trump, and this could be one more way for the Queen Bey (plus her next generation of kin) to reign supreme in more ways than one. Naturally, fans are here for this theory no matter the truth behind it.
The only problem is, it is probably not the case. Donald Trump, again, was born on June 14, and many news sources have reported that the twins were born on June 13, the day before. For those not on Pacific Standard Time, the "Sir Carter and Rumi 1 month today," caption that Beyoncé paired with her photo may not align with the full facts. Currently, Beyoncé is living in California with her new babies, which would make this post a (late) July 13 photo, marking June 13 as the babies' birthday.
But, that doesn't mean we can't still obsess over the fact that Beyoncé's twins entered this world a day before Donald Trump did (on the calendar, at least... just go with it). Plus, let's not forget all of the actually awesome people they share a birthday with: Chris Evans, Tim Allen, and Mary-Kate and Ashley Olsen. (The latter are a pretty great coincidence, and probably a lot more fun to share a birthday party with over Donald Trump.)