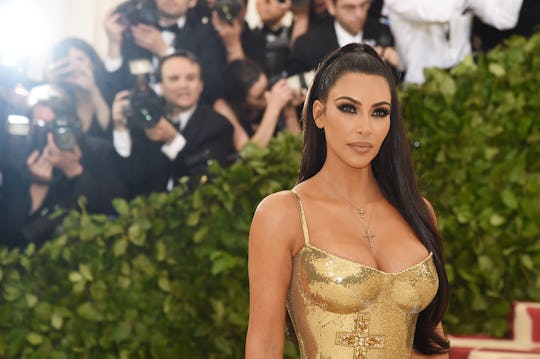 Jamie McCarthy/Getty Images Entertainment/Getty Images
Kim Kardashian Shared A Photo Of Her Kids In The Bath, & People Are Seriously Worried
By this point, Kim Kardashian must be more than accustomed to getting criticized each and every time she attempts to post something on social media. After all, some people seem to live for sliding into celebs' comments just to say something unnecessarily judgmental, and most of the time, their opinions are totally eye-roll-inducing. But people are shaming Kim Kardashian over a photo of her kids in the bath on her Instagram feed — with many calling for the pic to be taken down entirely. And although Kardashian might be skilled at tuning out her haters, this is one time when she may actually want to consider what they have to say.
At first glance, Kardashian's latest Instagram photo is just straight up adorable. The mom-of-three shared a cute pic of her oldest children, North and Saint, in the bath together, according to Us Weekly, and it's easy to see why she wanted to share it with the world: both of her kids look beautiful, and she seems to have captured a super sweet sibling moment. Yet, as much as it makes sense that the pic is one of her favorites, a number of commenters pointed out that well-meaning posts of cute bath time photos can actually put kids at risk. And as awful as it is to think about, experts have confirmed that that really is the case.
Editor's Note: The Instagram post has since been deleted.
The difficult thing about being a parent in the digital age? It's hard to know for sure what effect sharing so much of our lives online will actually have on our children. It makes sense, of course, that so many of us end up using social media as a kind of baby book — not only does it give us a way to document all the cute moments and milestones of our babies' lives, it also lets us easily share those moments with friends and family members. And when parents share those things publicly, it also gives them the chance to find community and get advice or support, reducing the feeling of isolation that can come with being at home with a baby.
It's no surprise, then, that so many of us do it: a 2015 poll by TIME and SurveyMonkey of more than 2,000 parents in the United States found that millennials were far more likely to share photos of their kids online compared to previous generations (only 19 percent of millennials said they'd never done it, compared to 30 percent of Gen X parents). But it's certainly not a risk-free activity. Aside from the potential invasion of your children's privacy (will they actually be OK with having photos of themselves on the internet when they're older?), these photos can, in some cases, make them a target for pedophiles and sex offenders.
That's a horrific thing to even consider, but according to the Child Rescue Coalition — a non-profit partnership of child exploitation investigators, police officers, digital forensic experts, prosecutors, and other experts — "the internet provides easy, anonymous, on-demand access to child pornography," in part because photos posted online by parents can end up elsewhere without their knowledge or consent. And it's not hypothetical: in 2015, Utah mom Brittany Champagne told local news station KUTV that photos of her children she'd posted to Facebook had ended up on strangers' Instagram accounts as well as on porn sites, and that there wasn't much authorities could actually do to get them taken down.
Though the majority of the comments on Kardashian's Instagram post were likely exactly the kind she was expecting — aka, people discussing how adorable her children are — there were many who pointed out that it may end up having unintended consequences. One user wrote, "I don't like these bathing photos of children. Internet is full of pedophiles so I would never put pictures of my kids in here," while another said, "The babies are beautiful but just take this picture down because people out here have sick minds." And though some users suggested that the negative comments were unfair or out of line, one follower summed her position up by writing,
Beautiful picture. Beautiful children. Totally understand. But there are really crazy and sick people out there. Once you post a pic you [lose] control of who saves it and shares it and for what reason. They are beautiful pictures taken by a proud mom. But sick people are in the world. The internet is filled with them. Concern not judgement should be reasonable.
Although it makes sense that the commenters who thought Kardashian's photo was nothing other than an adorable pic of two little kids might be put off by the criticism, the sad reality is that, online predators really do take advantage of these kinds of photos — and that the children of celebrities are particularly vulnerable. Erin Cash, who formerly worked to bust pedophile rings in Australia as part of Queensland Police's Task Force Argos told Kidspot that "the more coverage the images gain, the more likely they are to come to the attention to pedophile groups," and that they "become a platform for imaginings, fantasies and lewd behaviours."
But it's also not just about bath time photos. Cash said, "A child doesn't have to be naked or in a state of undress" for a photo to attract unwanted attention from predators, but that "it just depends on what the men find to be provocative." In fact, in some cases, the photos simply involve kids predators find attractive, and are then altered to seem pornographic, or edited into a meme by adding "a lewd comment."
In other words, there may not actually be such a thing a safe photo to share online at all — and perhaps especially not if you're someone as high-profile as Kim Kardashian. So as much as it really is nice to share cute photos of our kids online, it sounds like it might really be best for all parents to think twice before they do so.