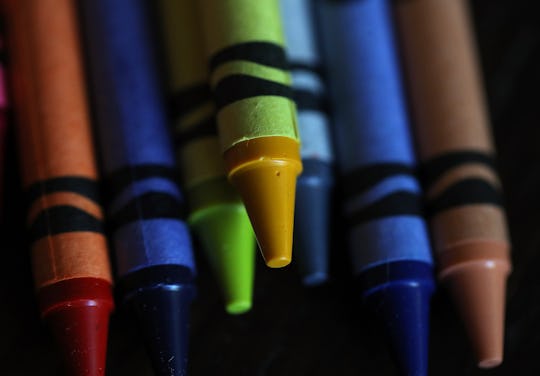 Justin Sullivan/Getty Images News/Getty Images
People Are Legit Furious About Crayola's Newest Color, I Guess
It's understandable why some people might have a sentimental attachment to crayons. They are, after all, one of the first objects you learn to write and express your creativity with. Many great artists and writers have started with a crayon. But they're not the best writing or coloring tool, either (seriously, they break like no other), and they're not something you really think about. But some people have had serious thoughts about crayons and the names of them. After an announcement on Thursday, people are legitimately furious about Crayola's newest color and I think they need to calm down. Just a little bit.
At the end of March, Crayola retired one beloved crayon color from the 24 count crayon box. And that color was dandelion — a bright, sunny yellow color that brought warmth and happiness to the crayon holder. The retirement was kind of upsetting — the crayon color had been around for more than 20 years, according to The New York Times, and people had grown up with the color. But dandelion's retirement was to make room for a new crayon. At the beginning of July, Crayola held a naming contest for a new blue-hued crayon shade, having fans vote and choose from five names, according to CNN. Those names ranged from having a patriotic theme (Star Spangled Blue) to being straight up inspiring (Reach for the Stars).
But this is a democracy, and after casting their ballots, the American people (and Canada) decided on one name — bluetiful. On Thursday, Crayola made the announcement about the new shade of blue and its (beautiful) name, debuting the crayon for the first time on Facebook.
Although bluetiful won the naming contest with 40 percent of the vote, according to People, people are not happy about the name. Users took to Twitter to actually criticize the name of the color, that as previously stated, won the majority of the vote.
These angry reactions are all for different reasons. Some are mad about the spelling, others believe that the name is stupid. But they all have one thing in common — they hate the word and name Bluetiful — in spite of the majority of people voting for it. Why do I feel like this is a metaphor for the 2016 Presidential Election?
All jokes aside, these people don't actually have to use this shade when they pick up their new box of crayons and can choose to avoid it if they please. The beauty of creativity is that you can use any color you like (and avoid bluetiful) to color in your phots.
Blue, as it is, is an incredibly common shade in the crayon box. But bluetiful — with its name and dazzling shade — will be different, according to Real Simple. Smith Holland, president and CEO of Crayola told Real Simple:
We have 19 shades of blue. What's really great about this color is this electric pop — it really fills in a gap in our spectrum. This color will allow kids to do something they haven't done before.
The science behind bluetiful's color is pretty cool. The color's pigment, according to the Associated Press, was accidentally discovered by scientists at Oregon State University while "experimenting with materials for use in electronics." The color (real name YInMin Blue) is more durable and brilliant than other shades of blue, according to Teen Vogue, hence why the Crayola CEO probably speaks so fondly of it.
People shouldn't be so upset about the new hue's name. At the end of the day, your 4-year-old will still call the color blue and the crayon will break within the first 3 minutes of you using it, regardless of the name. But those who want to get their hands on bluetiful to see what all the hype is about will have to wait just a little bit longer.
According to ABC News, bluetiful will be available in Crayola crayon boxes to everyone in time for the holiday season. Because nothing brings together a family at Thanksgiving than a healthy debate about the name of a crayon.