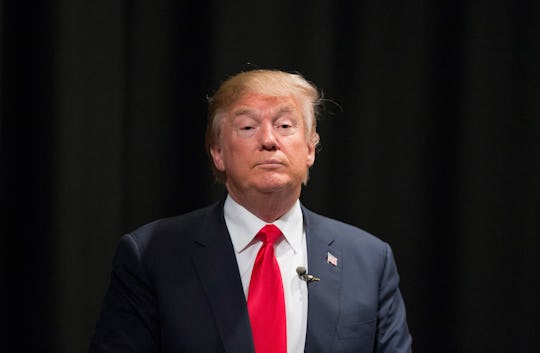 Scott Olson/Getty Images News/Getty Images
People Are *Furious* Over Trump's Tweet About Kirsten Gillibrand
On Tuesday morning, after sending out an angry post about the sexual misconduct allegations stacking up against him, President Donald Trump aired his grievances about one New York senator who called for his resignation in light of the accusations. Sounds like your average Tuesday, right? Except Trump's tweet about Sen. Kirsten Gillibrand was interpreted by many as sexually suggestive, and in light of today's #MeToo climate and the 19 allegations against Trump, people were not OK with it.
After summarily dismissing the accounts of 19 women (Trump has repeatedly dismissed sexual misconduct claims and on Tuesday called their allegations "the false accusations and fabricated stories of women who I don't know and/or have never met" on Twitter), Trump turned his attention to Gillibrand, who on Monday called for Trump's resignation. He tweeted:
Lightweight Senator Kirsten Gillibrand, a total flunky for Chuck Schumer and someone who would come to my office "begging" for campaign contributions not so long ago (and would do anything for them), is now in the ring fighting against Trump. Very disloyal to Bill & Crooked-USED!
Needless to say, people were not impressed by the quotation marks around the word "begging" in Trump's tweet. And what, pray tell, was the president insinuating Gillibrand would do for campaign contributions? Tweets criticizing Trump's tweet about Gillibrand very quickly piled up — and they did not hold back.
After a day filled with criticism and calls for the president to resign over the tweet, the White House denied any sexual implications in Trump's post. "There's no way that this is sexist at all. This is simply talking about a system that we have which is broken," spokeswoman Sarah Huckabee Sanders said on Tuesday afternoon, according to the BBC. She continued:
I think that the president is very obvious. ... If you look back at past comments he's made, it was very clear what his reference was.
Others on Twitter were quick to defend the president as well, with one YourVoice America host writing, "This whole Gillibrand outrage from the Left is just 'Blood from her wherever,' Part II. Trump never said that Megyn Kelly was menstruating - the sexist, misogynist #Media thought it then blamed Trump for their own disgusting thoughts."
The president has made several sexualized inflammatory comments before, but this was one of his first suggestive comments both as president and directed towards another elected official. During his campaign for the presidency, Trump seemed to insinuate that Fox News host Megyn Kelly was menstruating after she grilled him during a presidential debate. "You could see there was blood coming out of her eyes," Trump told CNN soon afterwards. "Blood coming out of her wherever."
Of course, a tape of Trump's suggestive words from back in 2005 resurfaced during his campaign, as well. "I'm automatically attracted to beautiful women — I just start kissing them, it's like a magnet," he said, according to NBC. He continued:
I don't even wait. And when you're a star, they let you do it. You can do anything. Grab 'em by the p*ssy.
For Gillibrand, the meaning behind Trump's tweet on Tuesday was clear.
"It was a sexist smear attempting to silence my voice, and I will not be silenced on this issue," she said at a press conference on Tuesday. "Neither will the women who stood up to the president yesterday, and neither will the millions of women who have been marching since the Women's March to stand up against policies they do not agree with."
Since his tweet exploded, Trump has not commented on the backlash, nor has he deleted the original tweet or tweeted anything in response.