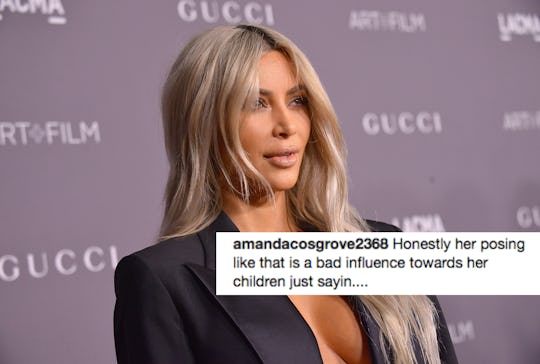 Charley Gallay/Getty Images Entertainment/Getty Images
People Are Mom-Shaming Kim K For Advertising Her Perfume With A Topless Photo
Kim Kardashian West is coming out with a new fragrance line, and now people are mom-shaming her for advertising it with a topless photo. Of course, this isn't the first time Kim K posted a topless photo online and haters came out to hate. The reality TV star shares half-naked and totally nude photos all the time — sometimes her daughter even snaps them — and the internet freaks out. But this time she's just marketing the launch of KKW Body, and critics are confused as to why she posted a photo baring her breasts (covering up with her arm) to promote it.
KKW Body is set to drop on April 30, according to People. Kim posted the photo of her upper body captioned, "KKW BODY 4.30 by Vanessa Beecroft," noting that Beecroft, an esteemed sculptor and performance artist, is involved in the project.
"The next fragrance I have coming out in May, KKW Body, is so amazing. It is a sculpture, basically, of my body," Kardashian West also said in her cover story for Business of Fashion. She talked about how proud she is of the scent, too, which smells to her like what she'd think "golden" smells like, "even though that's a color and something that's just luminous."
Whatever that means, and whatever the new perfume actually smells like, Kim's controversial promo pic of her body is obviously a statement to market the fact that her new fragrance is a sculpture of her... body. W Magazine reported that the name, KKW Body, might indicate that the new fragrance could be more of a full-body mist rather than a traditional perfume.
But now social media followers are mom-shaming her for how she chose to promote her new perfume. "Are you selling a fragrance or your body???????" one Instagram user asked. Another questioned, "Why the need for attention? You have three beautiful children and a husband. Focus on them instead of showing the world the goods." Another said, "Have some respect for yourself and your children gahhh." And another wrote, "This means I'm gonna end up with a KKW body right?! RIGHT?! *all plastic surgeons on call*" One just said "I don't get it🤔. Can't wait to smell the perfume tho."
Meanwhile, the move arguably makes Kim one hell of a businesswoman. Since launching KKW Beauty in June 2017, Kardashian created KKW Fragrance as a completely separate company. And the marketing around her Kimoji scents — those heart-shaped chocolate boxes — resulted in more than $10 million of sales before any consumers had even gotten their noses into them, according to W Magazine. Say what you want, but her company sells an estimated 350,000 units per product launch, which could result in an estimated turnover of more than $100 million in revenue in the first year, according to Business of Fashion. Critics often claim that she's got no real talent, but that's not bad for the first-time beauty entrepreneur.
"I just think it is fascinating that you can buy product online without trying it," Kim said, according to W Magazine. "It's just, it's crazy that you can sell fragrance without anyone even smelling it, if you describe it well enough."
She describes it well enough in photos, that's for sure. Fans and haters alike are interested enough to leave more than 7,000 comments on the promotion photo within just five hours, so it'll be no surprise when KKW Body likely does well in sales, too.
The move also makes Kim one hell of a mom. Her business is successful, even while juggling three kids.
"I'm on like full force work mode," Kardashian West reportedly told the Business of Fashion, adding that she's juggling a relationship, kids, being a mom and her work. "I've never worked this hard."
If anyone's worried about the lessons she's teaching her three children through her Instagram photos, maybe they should think about what her burgeoning business is teaching them instead.