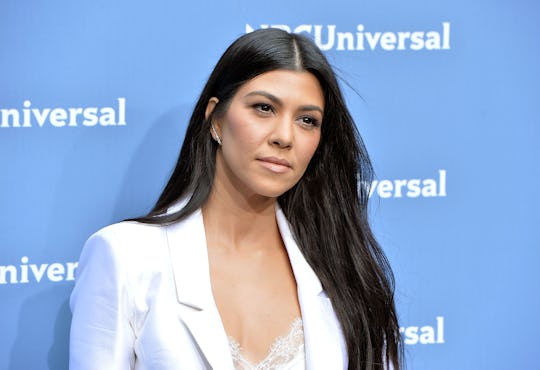 Slaven Vlasic/Getty Images Entertainment/Getty Images
People Are Mom-Shaming Kourtney Kardashian For A Nude Photo, & It Needs To Stop
The Kardashian and Jenner sisters have been in the news quite a bit lately regarding motherhood. Khloé Kardashian announced that she's having a baby, fans of the family are still wondering when or if Kylie Jenner will ever announce whether she's pregnant and, now, people are shaming Kourtney Kardashian for a nude Instagram photo because she's a mother — and the last one is so far from OK. Unfortunately, it's not the first time critics have bashed Kardashian mothers for embracing their bodies.
Kourtney, 38, is a mother to three children, Mason Dash Disick, Penelope Scotland Disick, and Reign Aston Disick. According to The Sun, she hasn't ruled out having more children, either, and would happily have two more.
Early Thursday morning, Kourtney posted a nude photo of herself on her Instagram account captioned: "fitness week, on my app 🌿." The image features the reality TV star sitting outside with her back to the camera, looking over her shoulder through wet hair. According to Channel 24, the photo was taken during the family's Costa Rica holiday last year. It actually debuted in May, the Daily Star reported, when fans had praised the photo calling Kourtney "Mother Nature," but it's the first time she's shared the photo herself.
And now, despite garnering nearly two million likes by early Thursday morning, commenters are shaming Kourtney for posting the nude photo for an especially gross reason: She's got kids — and heaven forbid a mother love herself in 2018.
"What are you doing?" asked one commenter. "You have 3 children. I preferred you when you were conservative." Another wrote, "Real classy, Mother of 3, 4, 5, 6,?" Another said, "I wonder what would you children say when they see this." And another said, "Well..let's not leave nothing to the imagination......remember you are a mother....."
The photo, promoting Kourtney's five-day fitness plan, also currently sits as the banner on top of the Health + Wellness vertical of her app, where she's been offering fitness tips all week. I assume she chose it because it shows off her lean muscles (with some serious side ab action) and, well, she's promoting a diet and exercise plan after all.
But that's besides the point. The point is that she can and should do what she'd like, so long as she's not harming anyone. And posting a photo of herself embracing her body, I'd argue, does the opposite of harm. But people are so quick to jump down the throats of mothers, shaming them for their parenting decisions.
Just last week, sister Kim Kardashian was mom-shamed for posting a topless photo on her Instagram account, according to Business Insider. "Have a matured sense your a mother with kids," one commenter wrote. "Damn [you] get older and more of a stupid mom lol idk how your [sic] a mom," another said. "What if this was your Mom?" one user asked. "Um go feed your children," wrote another. The comments rolled in: "Your children will be so proud! 😬 You are a terrible role model and it is so sad that children and young girls look up to you."
It's not the first time Kourtney has experienced mom-shaming for what she wears (or, rather, doesn't wear), either. In May, the bikini-clad Keeping up with the Kardashians star shared a photo lounging on the beach, and the internet slammed her for it, according to Styler Caster. "I think you should focus a little more on ur kids and a little less on your ass," one critic commented.
In July, she also shared a bikini photo that had commenters calling her out on not dressing as a mother "should" dress. "Just what I want to see my mom wearing. NOT," wrote one commenter.
What's wrong with a mother of three being proud of her body, and what's wrong with a mother focusing on her children and herself? Perhaps shockingly, women are more than just baby-making machines; they're humans. If Kourtney wasn't a mother, why would it then suddenly be OK for her to share partially nude photos? Motherhood is steeped in ideas about purity that most mothers haven't signed up for — there is no written agreement that says posting nude photos makes you a bad or impure human (unless you subscribe to beliefs that make the body or sexuality shameful), and mothers definitely don't sign a contract that strips them of their right to embrace their nude bodies or be sexual beings.
And I'd go so far as to say that a mother of three who's worked hard at personal fitness is both inspiring for a lot of mothers and a perfect example of dedication for a lot of girls.
Check out Romper's new video series, Romper's Doula Diaries:
Watch full episodes of Romper's Doula Diaries on Facebook Watch.