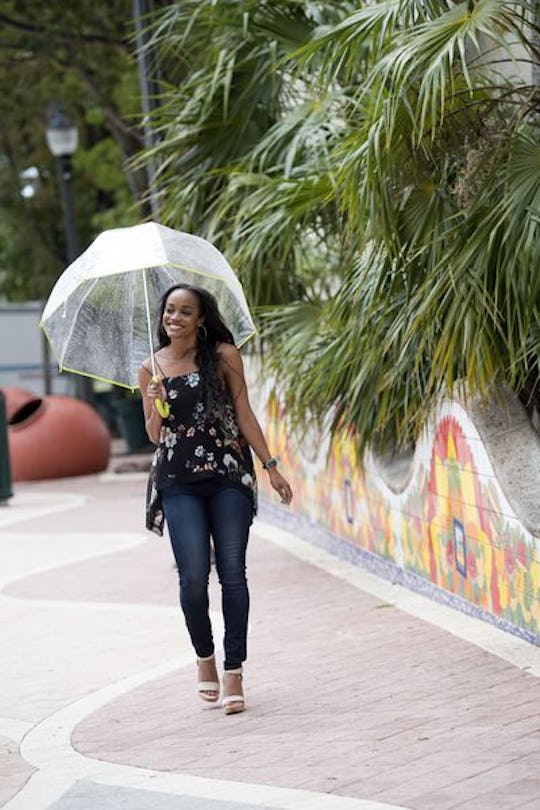 Rodrigo Varela/ABC
'Bachelorette' Fans Love Rachel's Sister Constance
Rachel Lindsay decided to switch up the final leg of her Bachelorette journey and have the final three guys meet her family in Dallas before jetting off to Spain to shoot fantasy suites. As it turns out, there was a very practical reason for the decision: Rachel's sister was 37 weeks pregnant and wouldn't have been able to travel to the finale location. And as soon as she appeared on screen, it was apparent that Rachel's sister was vital to the family's screening process. People are obsessed with Rachel's sister Constance on The Bachelorette, from her effortless style during one of the most uncomfortable parts of pregnancy to her no-BS attitude.
As we saw during Rachel's hometown date with Nick Viall, Constance and her husband Alex volunteered themselves as an example of what it looks like to confront the struggles of interracial relationships head on. This season, she showed up in consistently flawless outfits during each of the three family meetings, in spite of being hugely pregnant. Twitter immediately noticed how amazing she looked. But she was also deeply perceptive of each of Rachel's relationships. For example, Constance noticed how genuinely surprised Rachel was when Peter professed his love for her in front of the family, and she also recognized the parallels between Peter and Rachel's attitudes when each of them were on the suitor side.
When it came to Eric's visit, Constance was understandably concerned about the fact that he'd never been in love before. He's comparatively inexperienced in relationships, but Constance appreciated his honesty and sincerity. Bryan definitely seemed like her least favorite, though.
He blurted out over lunch that he felt like Rachel was his girlfriend "from day one" and Constance's eyebrows almost flew of her face. She challenged Bryan, saying that she found it hard to believe that he thought of Rachel as his girlfriend after a week, and she didn't stop challenging him over the course of the afternoon.
When Bryan tried to compliment the Lindsays, saying that they were obviously an amazing family, Constance pointed out that he'd only known them for an hour an a half.
"You had an answer for everything," Constance observed of his earlier grill sesh in front of the family. "There's hesitation there for me."
More than anything, Twitter seems to appreciate the way Constance balanced healthy skepticism, poise, and an intuitive support of her younger sister. It was super heartwarming to see.