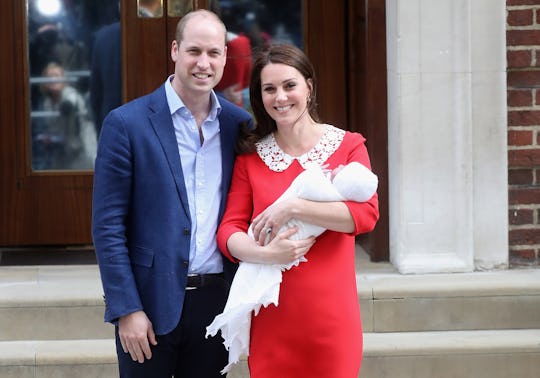 Chris Jackson/Getty Images Entertainment/Getty Images
People Are Obsessing Over Kate Middleton Leaving The Hospital So Quickly, & It's Not Cool
Kate Middleton was in and out of the delivery room faster than the press who were camped outside of the hospital could blink. Now people are obsessing over the fact that the Duchess of Cambridge gave birth and walked out in just seven hours, but it's seriously problematic. All of the talk of her seemingly miraculous abilities to pop out a miniature human and walk away (in heels, no less) is setting unrealistic expectations for new mothers while negating Middleton's unique circumstances.
Middleton welcomed her third child at St. Mary's Hospital on Monday, The Sun reported, and Prince William was by her side to debut their 8-pound, 7-ounce son at 11.01 a.m. local time in the Lindo Wing of the Paddington hospital.
In a statement, Kensington Palace said, "Her Royal Highness and her child are both doing well," according to The Sun.
Just one hour before welcoming her baby boy, Middleton's assistant and stylist Natasha Archer — who plans her outfits for official engagements and tours, and reportedly dropped off her red Jenny Packham dress and nude heels before the royal couple debuted their newborn — was seen leaving St. Mary's Hospital, according to People. Now Twitter users are obsessing over how "perfect" Middleton is for delivering her son and coming out of the hospital looking flawless in just seven hours.
But the fact is that giving birth doesn't exactly feel like an outpatient activity to many moms. Most women in the United States, for one, need two full days on average before going home, though the United Kingdom has one of the shortest postpartum hospital stays in the developed world — just a day and a half, according to a study in PLOS medical journal. And regardless of how long it takes women to leave the hospital post childbirth, I'm willing to bet that most don't dip out in designer clothing and a face full of makeup.
Middleton spent the night after giving birth to Prince George in 2013; she left less than 10 hours after giving birth to Princess Charlotte in 2015, People reported. And she didn't necessarily skip out early again this time because she felt ready to hop out of her hospital bed and get going — though, of course, maybe she did. Rather, she left so quickly largely because of the frenzy of fans camping outside the hospital for weeks, anxiously awaiting her son's debut. Parking restrictions were even put in place to control the chaos, according to People. But the Duchess isn't the only woman to give birth at the Lindo Wing, and the activity and noise could have been overwhelming for the others who were also delivering that day.
Besides, science says that the postpartum period is super important for both new mothers and fathers, so rushing home isn't exactly ideal for a lot of new parents who need or want that care.
"This latest birth-and-run can bring up a lot of discussion about the right way to give birth, the wrong way to give birth, why one way is better than another and how it's shameful that a new mom would [fill in the blank]," writes Washington Post contributor Amy Joyce.
She adds that Middleton's "smiling appearance" is just one example of how our culture idealizes childbirth and how little we talk about the healing period required postpartum.
So let's not forget that Middleton is expected to give birth, put on a full face of makeup, don a designer dress and heels, and head home quicker than many women (possibly including her) might be comfortable with. So, while many Twitter users are calling out the "superwoman" for her "impressive" ability to walk out flawlessly, who knows if the scenario is ideal for the Duchess herself?
Let's also recognize that Middleton's birth experience is not the norm — really, there is no norm. All women have their own unique experiences and they're entitled to as much or as little time as they need to get up and get adjust to life again, without societal expectations.
Editor's note: After publication, we discovered this article did not meet our editorial standards. There were portions that did not correctly attribute another source. It has been updated to meet our standards.
Check out Romper's new video series, Bearing The Motherload, where disagreeing parents from different sides of an issue sit down with a mediator and talk about how to support (and not judge) each other's parenting perspectives. New episodes air Mondays on Facebook.