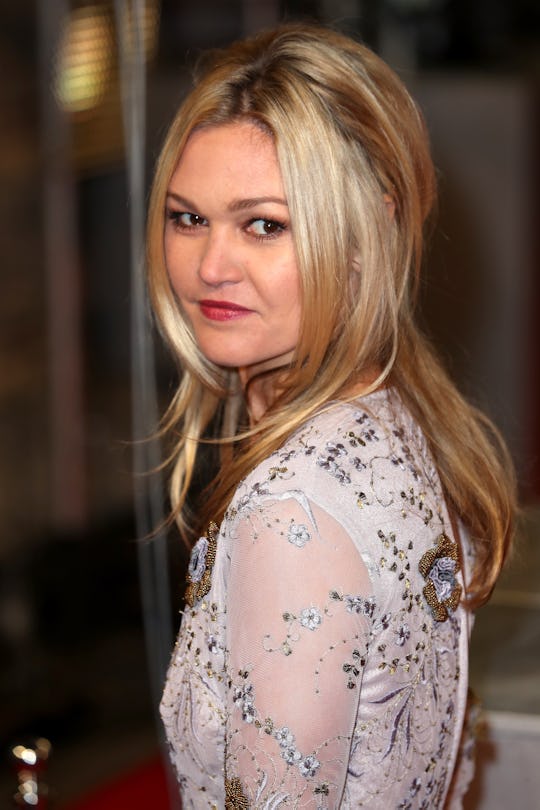 Chris Jackson/Getty Images Entertainment/Getty Images
People Are Piling On Julia Stiles For How She's Holding Her Newborn In This New Photo
Being rich and famous certainly has its fair share of perks, but there's also the side effect of people constantly criticizing you for no reason. And that only seems to get worse when you're a mom. A recent example of this is how people are piling on Julia Stiles for the way she's holding her newborn in a photo she posted on Tuesday.
Stiles gave birth to her first child — a baby boy named Strummer Newcomb Cook — on Oct. 20. The 36-year-old and husband Preston J. Cook haven't really shared a lot of photos of their new lives as parents, and their decision to remain pretty private is certainly understandable considering how many comments Stiles gets on each photo she posts. Most recently, the 10 Things I Hate About You star posted an adorable photo of herself holding little Strummer Tuesday afternoon to her Instagram.
Stiles looks happy and healthy holding her newborn in a front-riding baby carrier. And smartly, Stiles' baby can't really be seen in the photo, a tactic many celebrities are using in order to protect their little ones from the public eye. But of course, people began posting critical comments about the way Stiles was carrying him, because some people just don't know how to mind their own business.
"I haven't worn a back pack since middle school," Stiles wrote on Tuesday. "Now I have a front pack." And despite the fact that Stiles is a grown, adult woman who is both strong and independent, people couldn't help but point out that she has her baby positioned wrong.
There Were The Typical, Passive-Aggressive Helpful Hints
Some fans were perfectly kind with their comments and one user kindly noted the best way to put a baby in a carrier, writing, "Congrats! Beautiful new momma! Tula tip: Little baby feet go out the sides and not in waistband!"
Another simply made a request, writing, "Yay! Feet out of waistband and baby's face visible!"
But still, does it even matter? Strummer is barely 1 month old, and Stiles is a first-time mom. She's also been pretty darn busy lately, as she and Cook were married at the end of the summer. "Stiles' rep confirmed that the duo got married in an intimate ceremony with two friends on the beach in Seattle over Labor Day weekend," according to E! News.
And Then There Were The Straight-Up Rude Remarks
Of course, though, some were grumpier, writing, "Babies little feet should be out in the Free to Grow," and "Please pull babies legs out for proper placement."
Clearly, people are really invested in the proper way to carry a baby in the carrier, which Stiles indicated via hashtag was a Baby Tula brand Free-To-Grow, something many fans were quick to recognize.
Fortunately, Some People Were Just Really Nice
Considering the fact that Stiles is a widely popular actress, it makes sense that others would rush to her defense and offer sweet compliments and advice. "Love! You look amazing!!" one fan wrote, with another adding, "You look phenomenal! You are going to be such a great mom!"
There was also some encouraging advice, "Follow the group 'Tula Love' on Facebook to get tips on babywearing how to tips!" one user commented, continuing, "For example wearing the waist high to get baby in 'M' shape, keeping feet it of belt and folding the fabric behind babies head for breathing safety. My little one is 7 months old and I'm still trying to figure it out as he grows so fast! Congrats!!!"
It's understandable that many commenters were quick to point out that Stiles had little Strummer positioned incorrectly, as basically all the photos of parents using the Free-To-Grow feature have the baby's legs extended out of the carrier, and not tucked into the waistband as Stiles had.
However, the Baby Tula website doesn't explicitly state that baby's legs have to be extended while in the carrier. In fact, all that's stated in the instructions regarding leg placement is this: "Hold the baby so that they are positioned on your body with their legs in an 'M' shaped position."
So, really, if we're being technical, Stiles isn't doing anything wrong in how she's carrying her little one. And if she were, let's give her some slack and have some faith that she's going to figure out this whole parenting thing. New moms are already under enormous stress and pressure, and no one is perfect.
Clearly, Stiles is doing her best. And it seems as though both she and little baby Strummer are happy and healthy, which is really all that matters.
Check out Romper's new video series, Romper's Doula Diaries:
Watch full episodes of Romper's Doula Diaries on Facebook Watch.