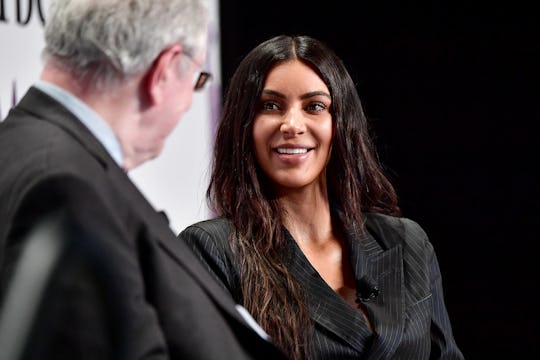 Dia Dipasupil/Getty Images Entertainment/Getty Images
People Think Kim Kardashian Is Stealing Beyonce's Thunder
On Wednesday morning, word broke that Kim Kardashian and Kayne West will reportedly hire a surrogate to carry their third child. But some social media users are outraged by the update. And here's why people are pissed about Kim Kardashian West's surrogate news: Beyoncé fans say she's stealing Queen Bey's thunder. Kardashian West's representative did not immediately respond to Romper's request for comment regarding whether the couple is using a surrogate.
A source told People that Kardashian West had reportedly hired a surrogate, which means the Kimye clan may soon grow by one. The 36-year-old reality TV star has spoken openly about wanting another child on her E! show, Keeping Up with the Kardashians, even though she would most likely experience high-risk pregnancy complications. When carrying now 18-month-old Saint, Kardashian West suffered from placenta accreta, a condition where, according to the Mayo Clinic, parts of the placenta grows too deeply into the uterine wall, preventing it from detaching after childbirth.
Kardashian West has yet to confirm the surrogacy news, but members of the Beyhive are none too pleased. That's because the announcement comes two days after an unnamed source told People that Beyoncé gave birth to her twins. According to Slate, her father, Matthew, confirmed the news on social media, though Queen Bey and husband Jay Z have yet to do so themselves.
TMZ reported early Wednesday morning that Kim Kardashian and Kayne West, who wed in May 2014, reportedly hired a surrogate through an agency, and agreed to pay $45,000 over a 10-month period. The entertainment outlet goes into more details about the alleged agreement, though all of the information has been obtained through what seems to be an unnamed source.
Kardashian West didn't only experience complications while pregnant with Saint. While carrying daughter North, her first child with Kayne, she developed early-onset preeclampsia at 34 weeks, according to Entertainment Tonight. Preeclampsia is a condition where a pregnant person develops high blood pressure, as well as signs of other organ damage, according to the Mayo Clinic.
Her doctors told the reality star that she couldn't have anymore kids, which led her to consider surrogacy. According to People, the beauty and fashion mogul told mother Kris Jenner on KUWTK that,
I've come to the conclusion in my mind that I can't carry another one. So now I want to explore surrogacy.
It seems silly that some Beyoncé fans are upset with Kardashian West. Neither celebrity has yet to confirm the news, so everything is speculation based on secondary sources. But who knows? Maybe it's all in good fun.