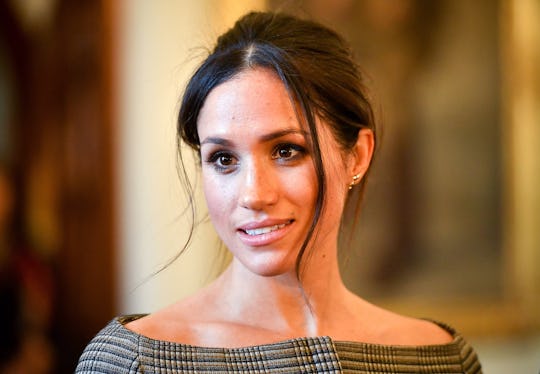 WPA Pool/Getty Images Entertainment/Getty Images
People Are Angry About The Apron Meghan Markle Got, But Here's Why That's Problematic
On Wednesday, the Royal Family released its annual list of gifts received by its members, and let's just say it's caused quite a stir. Why, you ask? Because people are pissed about the apron Meghan Markle received as her first royal gift. As a feminist, I understand the outrage, completely. But I also see the outrage as deeply problematic, mainly because of the agency it ignores.
To be clear, the Royal Family did not give Markle the apron. Instead, Prince William accepted the apron on behalf of Markle and her fiancé Prince Harry during on one of his public tours and engagements in Finland, according to the list made public by Kensington Palace. So the 36-year-old American actor's first royal gift is not a reflection of the family she's about to marry into come May.
Don't get me wrong, though: I am not a big fan of aprons. In a patriarchal society, aprons represent the archaic role assigned to the women in the household. After all, there's a vintage ad floating around where a naked woman is wearing an apron, serving her husband, situated underneath the slogan, "Learn to train your wife in 5 easy lessons... FREE booklet shows you how!," according to Glamour.
Taken at face value, the apron would seem to suggest that Markle is expected to play the role of "the dotting, adoring wife," even if that was not intentional. And that's a stereotype the Suits star has fought against in her work as a feminist and United Nations women's activist.
It first started when Markle was 11 years old. One day, in school, she saw a television ad for Procter & Gamble dish washing soap, she explained during her speech at the U.N. Women's 2015 conference on International Women's Day, according to Marie Claire U.K. The tagline? "Women all over America are fighting greasy pots and pans." *Insert massive eye roll.*
Two of her male classmates joked about how "women belong in the kitchen," which did not sit well with Markle, Marie Claire U.K. reported. Quite frankly, the P&G slogan, and her peers' response, pissed her off.
In her speech, the successful actor explained that, at the time,
I remember feeling shocked and angry and also just feeling so hurt. It just wasn't right and something needed to be done. ... [My father] encouraged me to write letters, so I did, to the most powerful people I could think of.
Of course, knowing Markle's own feminist history, the apron would be a considerable misstep. But, here's the thing, Markle actually loves to cook. In fact, she was in the middle of roasting a chicken when Prince Harry popped the question, according to BET. And the recipe for said chicken dish, created by Chef Ina Garten, is one of her favorite dishes to cook, according to a 2016 interview with Good Housekeeping. Plus, The Telegraph reported, Markle and Prince Harry's relationship "blossomed over home cooked meals."
So that begs the question: Did the Finnish person who gifted Markle the apron read up on the couple's history and wanted to give her something that would hold special meaning? Obviously, only that person would know.
As I said, I understand the outrage. Without context, the apron is a pretty sexist gift. But it's also problematic to always cast anything traditionally feminine as inherently bad. So many women, trans women, trans men, and gender non-binary people love to cook (or wear make-up). Aprons are useful tools in keeping grease off of your clothes. They don't have to be frilly. They don't have to be ridiculously pink and sexist. Heck, you can even fight the patriarchy while making Garten's recipe, if you so choose.
But it's not helpful to continue treating traditionally feminine things as anti-feminist. That removes a person's agency — and that's not what feminism is about.
Check out Romper's new video series, Romper's Doula Diaries:
Watch full episodes of Romper's Doula Diaries on Facebook Watch.