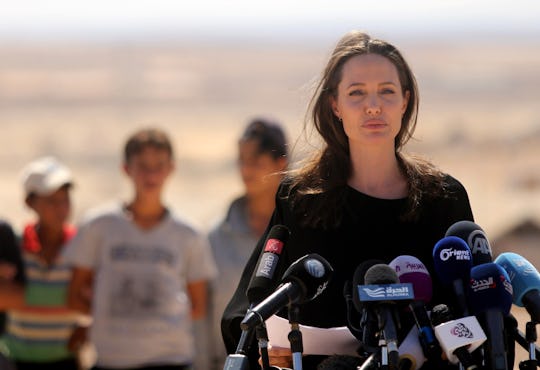 Jordan Pix/Getty Images News/Getty Images
People Are Pissed Angelina Jolie For Reportedly Working With The Cambodian Army
She just announced her upcoming film, First They Killed My Father, but people are already pissed at Angelina Jolie for reportedly working with the Cambodian army to make the movie happen. Her critics previously claimed that Jolie allegedly used inappropriate methods when meeting with already-impoverished Cambodian children during the casting period (in a Vanity Fair interview, Jolie explained that they would give the children money and then later take it away to gauge how they reacted). And now, experts in the region point to more concerning aspects of her relations with the government of Cambodia, a regime that is widely considered oppressive to its people.
UPDATE: In a statement to HuffPost on Sunday, Jolie refuted the Vanity Fair account of her casting game, saying,
Every measure was taken to ensure the safety, comfort and well-being of the children on the film starting from the auditions through production to the present. Parents, guardians, partner NGOs whose job it is to care for children, and medical doctors were always on hand everyday, to ensure everyone had all they needed. And above all to make sure that no one was in any way hurt by participating in the recreation of such a painful part of their country's history.
I am upset that a pretend exercise in an improvisation, from an actual scene in the film, has been written about as if it was a real scenario. The suggestion that real money was taken from a child during an audition is false and upsetting. I would be outraged myself if this had happened.
The point of this film is to bring attention to the horrors children face in war, and to help fight to protect them.
The actress did not address reports that the producers had allegedly worked with the Cambodian Army during filming.
EARLIER: According to Vanity Fair, the government of Cambodia reportedly closed off the capital city of Battambang for days to facilitate filming of the movie, which is an adaptation of Loung Ung's memoir from 2000 about the Cambodian government. It also reportedly provided filmmakers with permits to access remote areas of land and 500 real-life army officials to play the Khmer Rogue army.
Filming overseas requires a bit of diplomatic finagling, but some think Jolie took it a step too far. Executive Director of Human Rights Watch's Asia Division Brad Adams expressed concern about the funding that the film allegedly provided to the dictatorship:
To ask for permission to make a film and thereby invest in the local economy is fine, and you're going to have to have some meetings with some government officials. But you can take a stance to make sure you don't empower, legitimize or pay the wrong people. And working with the Cambodian army is a no-go zone, it's a red flag, and it's a terrible mistake. This is an army that is basically an occupying force of a dictatorship, it's used to put down environmental activists — the kind of thing that she stands for is in direct contrast to what this government is.
Romper has reached out to Jolie's lawyer for comment on the claims and is awaiting a response.
Adams suggested an alternative route to filming in the country that avoided aiding the wrong people, including an army he said "continues to be an extremely abusive rights-violating force." A potential solution to the ethical dilemma would have been to hire extras to play the soldiers.
Adams also worried that Jolie had allegedly been nonchalant about where the money was going:
There's moral hazard in having any relationship or dealings with the Cambodian government. It's not clear whether she understands that and it's not clear whether she cares about it.
Although Jolie has long been working for the betterment of Cambodia, this is not the first time that she has been criticized for her work and travels overseas. In 2002, she bought a parcel of land for the Maddox Jolie-Pitt Foundation from Yim Tith. Tith is an alleged human rights abuser and mass murderer, as well as former commander of the Khmer Rough. He is currently wanted by the United Nations for crimes against humanity. It is unclear whether or not Jolie knew of his history before making the purchase.
Adam's spoke out about this purchase as well:
Whether it was her mistake or her employee's mistake in making that transaction, it shouldn't have happened. She should not have been transferring money to a guy charged with genocide.
Despite her Cambodian citizenship and sincere efforts to improve conditions in the country, Jolie has unfortunately found herself at the center of controversy once more. Here's hoping that everything is worked out soon, for everyone's sake.