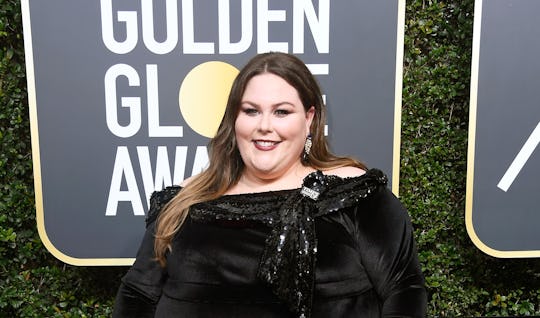 Frazer Harrison/Getty Images Entertainment/Getty Images
People Are Pissed Chrissy Metz Didn't Win A Golden Globe
In what might by more of a shock to the fans than the star herself, Chrissy Metz didn't win Best Actress in a Drama at the 2018 Gold Globe Awards on Sunday night, and people are pissed. "There's so many incredible actors and projects out right now," the star of NBC's This Is Us told E! News after finding out that she was nominated last month. "I would never presume that I would be in the running." The awards show tracker website GoldDerby.com placed Metz's odds of winning at 9/1, correctly predicting the eventual winner for Best Supporting Actress as Big Little Lies' Laura Dern.
This was the second Gold Globe nomination for Metz, who's consistently tackled emotional subject matter in her role as Kate Pearson. This year, her character suffered a miscarriage, an all-too-common situation that requires the utmost care and nuance to portray. Fans were in awe of her stunning, touching performance, and many were absolutely convinced that she'd take home the statue this time around, or at the very least, that she should have. But alas, this wasn't the People's Choice Awards; this was the Golden Globes, and the winner is chosen by the Hollywood Foreign Press Association, not Twitter.
Even those who just jumped on the This Is Us bandwagon were already rooting for Metz, who gave it her all from the very first episode.
For fans, awards shows are generally about the red carpet fashions, the funny and tearful acceptance speeches, and, in the case of the Golden Globes, that one actor who had a little too much free bubbly and acted a fool. This isn't a sporting event; fans aren't all that invested in who wins or loses. But not for fans of Metz, who might be starting to feel a kinship with pre-2016 Cubs fans.
The tricky part is that rooting for your favorite means, in effect, rooting against their competition. That's no problem when the Red Sox are pitted against the Yankees, but who can actively wish ill of the fantastic Laura Dern?
Even if you don't have HBO, chances are you enjoyed Dern's work at some point last year, perhaps on Twin Peaks as the chronically surly Diane Evans, or The Last Jedi's fearless Resistance fighter Vice Admiral Holdo (who does not need to explain herself to a subordinate).
Maybe you were pleasantly surprised by her unexpected cameos on Unbreakable Kimmy Schmidt or The Last Man on Earth. Or maybe you just watched Jurassic Park for the 30th time and finally realized that Dr. Ellie Sattler is the only scientist in that entire franchise with a lick of sense. The point is, as disappointing as Metz's loss was, we can't be mad at Dern.
Still, it's hard for some people to reconcile the idea that Metz didn't get justice for her breakout role.
Some fans are also questioning why her role was categorized as "supporting" rather than "lead," like her co-star Sterling K. Brown.
According to The Hollywood Reporter, the Hollywood Foreign Press Association requires distributors to choose a ballot designation for each submission, and then votes on whether or not to approve it, so it looks like fans have a bone to pick with NBC for Metz's category, if anything.
But if Metz is similarly disappointed, her spirits are sure to be lifted when she sees how many people out there are rooting for her, because while the critics' opinions certainly matter, the audience is what truly matters, and her audience is behind her 100 percent.
And if she really needs a trophy, this one is infinitely more valuable:
Congratulations to Dern for her Golden Globe, and to Metz, for having the most passionate, supportive fan base an actor could ask for. You're both winners tonight.
Check out Romper's new video series, Romper's Doula Diaries:
Watch full episodes of Romper's Doula Diaries on Facebook Watch.