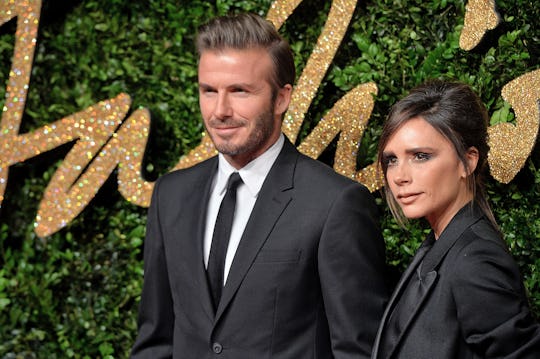 Anthony Harvey/Getty Images Entertainment/Getty Images
Harper Beckham Had Her Birthday At Buckingham Palace
As the youngest child — and only daughter — of David and Victoria Beckham, it was always pretty safe to assume that Harper Beckham lives a pretty sweet life. But thanks to her parents' Instagram accounts, we now have photographic proof that, actually, she probably really is the luckiest 6-year-old on the planet. Joined by her family and a small group of friends, Harper Beckham celebrated her birthday at Buckingham Palace last week, according to People, and in a series of posts in honor of his daughter's big day, David Beckham shared snaps of the little girl both in front of, and inside, the Queen's residence. But the photos have led to some backlash, with many people angry viewing the move as an example of the family's over-the-top wealth and privilege.
In Beckham's Instagram posts, he and Harper can be seen posing outside of the palace, along with a similar photo featuring Beckham's mom. In another, taken inside a palace drawing room, Harper (dressed as Elsa from Frozen) and five of her school friends are standing for a photo along with an actual princess — Princess Eugenie, daughter of Prince Andrew and the Duchess of York. Victoria Beckham also shared a pic of her daughter's big day on her Instagram account, showing Harper (still dressed as Elsa) outside of Buckingham Palace, holding a red balloon.
As cool as that must have been for the Beckhams though, there were many people left thoroughly unimpressed — including Dickie Arbiter, a former Buckingham Palace press secretary. According to The Independent, Arbiter told Sky News that "None of them has got a right to be there," and asked, "Is it being opened up as a theme park? It devalues what the place is all about. Why do the Beckhams get special treatment?"
David Beckham defended the event on Instagram following the influx of criticism, and explained that they weren't specifically there for Harper's birthday, but that they'd been invited to a private tea party that happened to coincide. Beckham wrote,
Just to be clear this wasn't the palace opening the gates for Harper's birthday party , this was a tea party where us and other guests were invited so it was a beautiful thing to do with My mum, Harper plus a few school friends... We were honored to be able to there.
A spokesperson for Buckingham Palace agreed, according to The Daily Mail, and said, "From time to time members of the Royal Family who reside at royal residences invite guests to visit privately." Specifically, the Beckhams were guests of Prince Andrew, who was said to have invited the family and some friends and extended family members for the private event. As for footing the bill, a source told The Daily Mail that the prince would have covered the cost for the party himself.
Controversy aside, Harper must have had an incredible day — and she surely must have been feeling the love. In addition to her parents' Instagram posts, Harper's three brothers also took to social media to send loving messages their sister's way, and it was absolutely the sweetest. 18-year-old Brooklyn shared a sweet snap of the two of them, along with the caption, "Happy birthday to my little sister. Love you so much," while 14-year-old Romeo wrote, "Happy birthday to the best sister in the world!!!!!!! I hope you have an amazing day . I love you so much."
12-year-old Cruz also shared an Instagram post, featuring a photo of him holding his sister on his shoulders, and wrote,
Dear Harper I can't believe it has been already 6 years you are such a big girl so, to the best sister in the world I love you so much have [an] amazing day.
The Beckhams may have rubbed a lot of people the wrong way by sharing photos from Buckingham Palace, and the reaction is understandable. But even if she hadn't had the coolest birthday party ever, the fact that the Beckhams seem like a totally loving and super tight-knit family probably means that she would have always had an amazing day, no matter where she had ended up celebrating.