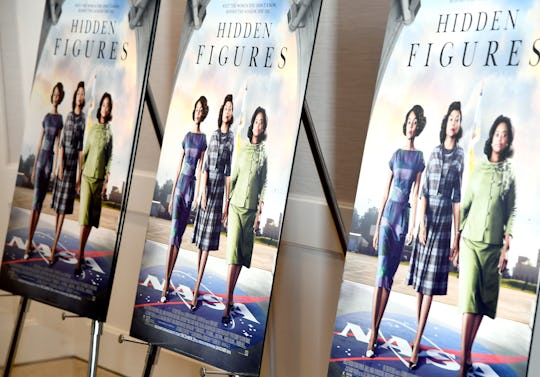 Frazer Harrison/Getty Images Entertainment/Getty Images
How To Help Young Girls See 'Hidden Figures'
Since the 2017 Golden Globes aired, it seems as if all anyone can do is talk about the movie Hidden Figures — mainly for the gaffe made during the show when people kept misreading the title. But people should keep talking about the film — it has a great message and tells an amazing story. It is this message that is behind why people are raising money for young girls to see Hidden Figures and the best part about it is that anyone can help them.
One young aspiring astronaut from Florida — 13-year-old Taylor Richardson — is currently raising money to send 100 girls in Jacksonville, Florida to see the movie in theaters. The movie, which is about the team of three black women who "helped NASA send a man into orbit" has a message that people need to know about. The movie not only highlights the importance of STEM in schools, but it also allows young women to see their true potential. Because of this, Richardson wants to send 100 girls to see the movie, purchase some snacks, and additionally buy them the book, Hidden Figures by raising $2,600 through GoFundMe, according to The Huffington Post. Richardson has already met her goal (and then some) but people can help Richardson continue to raise money before the Jan. 21 screening for this great cause by continuing to donate on her GoFundMe page.
A trip to the movies is relatively expensive these days. According to Variety, the average movie ticket price towards the end of 2016 was 8 dollars and 51 cents. Seems kind of reasonable — but factor in the additional ticket cost for parents and kids and the cost of concessions — and the price to see a movie rises significantly. Not to mention, seeing movies in theaters can be a little unaccessible for some. But cost or accessibility should not have to stop anyone from seeing a movie, especially one with a great message. This is why people are raising money to help young girls see Hidden Figures, according to The Huffington Post. Richardson is not the only person to help raise money to see the film. According to The Huffington Post, several teachers across the nation have already raised money and are continuing to raise money to send students to see the film.
Even the film's stars are making access to the film easier. On Friday, actress Octavia Spencer rented out a showing of the film at a Baldwin Hills movie theater, located in the Los Angeles, California area — so those who are less fortunate could see the film, according to Entertainment Weekly.
"My mom would not have been able to afford to take me and my siblings. So I'm honoring her and all single parents this #mlkweekend. Pass the word," Spencer wrote on her Instagram post announcing the showing.
The cost of a movie should not stop anyone from seeing a movie with a great message, filled with characters that kids can look up to. Thankfully, people are making it easier for them to do so.