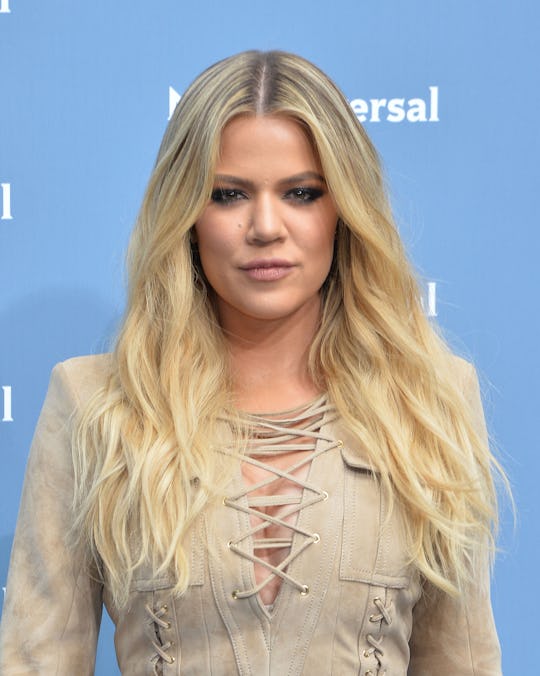 Slaven Vlasic/Getty Images Entertainment/Getty Images
Khloé Kardashian Shuts Down Claims That She Lied About Her Infertility Struggles
If you didn't manage to catch it, Khloé Kardashian finally confirmed her pregnancy yesterday via social media! Ever since the reports started circulating back in September, fans have been waiting with bated breath — scouring her Instagram, Twitter, Snapchat and other social media accounts for even the slightest hint of a bun in the oven. With the detective work over for this Keeping Up with the Kardashians sisters (now it's Kylie's turn!) fans have switched gears and are reflecting on Khloé's long journey to motherhood. Except, for some Twitter users, that means discrediting her struggle to become pregnant in the first place. Khloé Kardashian addressed claims that she lied about infertility struggles, reminding fans that it takes two to have a baby.
Khloé made the big announcement Wednesday on Instagram with a photo of both Khloé's hands and what are assumed to be her boyfriend, Tristan Thompson's hands on her bump, according to People. The sweet image was accompanied by a touching message. "My greatest dream realized," she wrote. "We are having a baby! I had been waiting and wondering but God had a plan all along. He knew what He was doing. I simply had to trust in Him and be patient." The gushing mama-to-be continued, thanking both Thompson and her fans for their ongoing support:
Thank you to everyone for the love and positive vibes! I know we've been keeping this [quiet] but we wanted to enjoy this between our family and close friends as long as we could privately. To enjoy our first precious moments just us. Thank you all for understanding. I am so thankful, excited, nervous, eager, overjoyed and scared all in one! But it's the best bundle of feelings I've ever felt in my life!
Naturally, Khloé's fans flocked to various social media outlets to congratulate the reality star on her happy news.
One Twitter user wrote, "After watching how much @khloekardashian struggled a few years back on kuwtk about getting pregnant, I'm so happy for her & I feel like everything does happen for a reason and she's finally gonna get her baby." (Aww! Too sweet, right?) Probably much to this person's surprise, Khloé tagged her in a follow-up tweet. Except, it seems as if the reality star was really responding to this negative comment on the congratulatory post: "Didn't she lie (and make a mockery of) about fertility issues all bc she didn't wanna have kids at the time?" the commenter wrote.
Khloé clapped back with, "I def wasn't lying. I did all my treatments but then when we did further testing we realized I was NOT the one with the issue at the time. It takes two to have a baby. But anyways thank you for the love."
So what are the naysayers talking about, anyway? In a June episode of KUWTK, Khloé paid a visit to her OB-GYN, where she revealed that she only pretended to try to get pregnant while married to Lamar Odom, E! Online reported. Her doctor asked if she had ever tried to get pregnant before, to which Khloé replied, "I fake tried. I was married, but I knew the circumstances weren't the healthiest. So I just kept pretending I was doing it." Reflecting on that visit, Khloé went on to explain:
When I was doing fertility treatments, they were more so for Lamar. I had to stop because there was much deeper stuff that was happening in our marriage. I knew it wasn't the right situation to bring a child into, and I think I've done a lot of covering up for him, even when it made me look like I was the problem. But I was fine taking on that burden on my shoulders because he had a lot of other deeper s*** to deal with.
At the appointment, however, she also discovered that conceiving may not be easy for her, E! Online reported. "There are fewer follicles than I anticipate for a normal 32-year-old," her OB-GYN says in the clip. "This is definitely not at all how I thought this appointment was going to go," Khloé reacts. "What if I can't get pregnant?" So perhaps both partners in this situation had reproductive issues going against their efforts?
Unfortunately, infertility is a crushing reality for so many couples — and it seems like many people are quick to assume that it's the woman's "fault." According to the National Institutes of Health, however, one-third of infertility cases are caused by male reproductive issues. In Khloé's case, it doesn't seem like she was flat-out lying about her situation; it was simply a "lie" of omission. Here's the takeaway: Just because a couple is dealing with infertility, doesn't mean the reproductive issues stem from the woman. It could be the guy, or it could be both — but really, it's no one's business but theirs. Because it takes two people to make a baby, after all.
Check out Romper's new video series, Romper's Doula Diaries:
Watch full episodes of Romper's Doula Diaries on Facebook Watch.