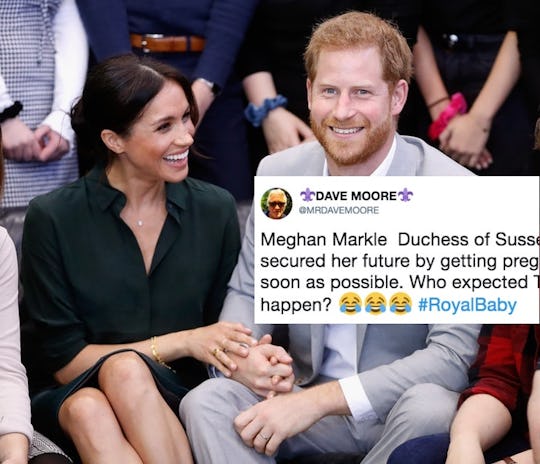 Chris Jackson/Getty Images Entertainment/Getty Images
People Are Saying Meghan Markle's Pregnancy "Secured" Her Future & Eww, Just Eww
On Monday, Kensington Palace confirmed the biggest royal announcement to come out of a year already *full* of major royal announcements: Prince Harry and Meghan Markle are expecting their first child together. On social media, royal fans promptly freaked out about the couple's soon-to-be little one, and news outlets quickly began deconstructing every possible detail about her pregnancy. But despite it being incredibly happy news, some people are saying Meghan Markle's pregnancy "secured" her future with the royal family, and honestly, why are we still doing this to women?
The snarky comments aren't entirely surprising: for most people, the notion of marrying a prince and living a luxurious, happy life together in a literal palace seems to be equivalent to winning the lottery, and it's easy to look at Meghan as the luckiest woman on the planet. Add to that the fact that she and Harry have had a total whirlwind romance — they announced their engagement just over a year after meeting, and tied the knot only six months later — and it certainly seems like they are far more eager to settle down and start a family than the average couple.
But assuming that it's all part of Meghan's master plan to "secure the bag" (aka lock down her financial future by getting pregnant with Prince Harry's baby) is not only unfair to her, it's unfair to all women.
Of course, Meghan is far from being the first royal wife to be put through the ringer for supposedly using her relationship to climb the social ladder: for eight years prior to marrying Prince William in 2011, Kate Middleton was dubbed "Waity Katie," according to The Telegraph, and criticized for her lack of career success, all based on the assumption that she was hoping to convince the prince to put a ring on it and ensure she'll never have to fend for herself.
In fact, despite already coming from a wealthy family, Kate was reportedly teased growing up because her family was self-made "new money" (her mother, Carole Middleton, started a mail-order party supply company called Party Pieces), and she and her sister, Pippa, have been nicknamed "wisteria sisters," for their apparent desire to climb the social ladder, according to The New York Times.
Now, seven years of marriage and three children later, Kate has seemingly settled in comfortably as a senior royal, and for the most part, she doesn't seem to encounter the same kind of judgment she has in the past. But as the newest addition to the royal family — and as the one who was able to entice everyone's favorite royal bachelor, Prince Harry, to settle down? Now, it seems to be Meghan's turn. Add in the fact that she's bi-racial, a former Hollywood actress, and that she's been previously married, and, well, there's a lot for haters to latch onto.
The reality, of course, is that it's not really that surprising at all that the couple got pregnant quickly: not only have they both been very upfront about wanting to start a family of their own, they're also older than Prince William and Kate were when they got pregnant for the first time. In fact, at 37 years old, Meghan's is technically considered to be a "geriatric pregnancy," according to The Mirror (which, ugh), and even though many women these days obviously have babies into their 30s and 40s, the concern over increased risks or complications may have prompted them to go for it sooner rather than later.
But there are also other reasons. Prince Harry and Prince William are very close, and could want their children to be close in age, and with Meghan having put her acting career firmly behind her, it's not like she has to contend with a grueling filming schedule that would make motherhood more of a challenge. They're in love, obviously very financially-secure, and they have the time and support to raise a whole brood of children together if they wanted to. Why do they have to wait?
On some level, it might be more enjoyable to assume Meghan must have some kind of sneaky motive for wanting to marry Prince Harry and have a baby right away, but the truth is likely much more mundane. While their love story may be the stuff childhood fairytales are made of, they probably have much more in common with the average married couple than most people realize — including a mutual desire to start a family. And since men are rarely ever charged with the same kinds of gold digging insinuations as women? Perhaps we can keep these snarky thoughts to ourselves, and let the couple be happy.