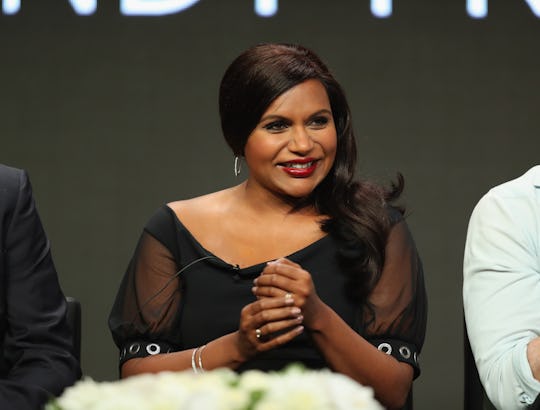 Joe Scarnici/Getty Images Entertainment/Getty Images
People Are Saying Mindy Kaling "Showed Off" Her Baby Bump While Running Errands, & It's *So* Ridiculous
If you're a fan of The Mindy Project, or really anything actress and writer Mindy Kaling has ever done, you're probably aware that she's pregnant. Kaling is reportedly expecting a baby girl, and while she's talked a little bit about the pregnancy and has shared a photo here and there on social media, she's mostly kept quiet and been fairly private about the experience. So it's a little ridiculous that when she was spotted on an outing in Los Angeles on Wednesday afternoon, so much of the coverage of her appearance was framed as Kaling "showing off" her baby bump.
While she was out and about, Kaling wore a short-sleeved navy sweatshirt with the word "Bonjour" written on it in yellow, as well as fitted jeans and flip-flops, according to People. To me, it looks like Kaling is wearing a comfy outfit while she runs errands. But apparently that translates to her "showing off" her pregnant belly.
Frankly, I don't think Kaling is necessarily "showing off" her baby bump so much as going about her day, while pregnant, in public. She's not wearing a t-shirt with the words "Look at me! I'm pregnant!" emblazoned on it. She's just existing as a pregnant woman in the world, like plenty of other women do every single day.
But by doing a quick internet search for her name, it's clear that Kaling "showing off" her belly the other day is the angle a lot of people think matters the most. It can't just be that she's taking a walk, and happens to be pregnant while doing so.
This might seem like kind of a silly thing to point out, except it's not the first time a celebrity woman who was said to be "showing off" her baby bump when she was really just living her life while pregnant. For example, in March, when Amal Clooney was spotted in New York City, a lot of the coverage of the appearance was more focused on her pregnant belly and her outfit than on the important speech she gave at the United Nations.
And that's far from the only time a headline has said "Insert Celebrity Name Here Seen Showing Off Her Baby Bump." It's just one of the times that the coverage got a lot of (appropriate) backlash.
And yes, Kaling has shared at least one photo of herself while working and pregnant to her Instagram. She could be seen as "showing off" for doing that, but I see it as her being proud of both the work she's doing and of her pregnancy. Pregnant women are of course allowed to share photos of their pregnant selves if they feel comfortable doing so — but those photos shouldn't always have to center their pregnancies. They are people apart from that pregnancy.
And, women sharing their own photos is different than a tabloid framing a paparazzi shot of a woman running an errand while pregnant as that woman "showing off" her pregnancy. Kaling isn't showing off her stomach by being pregnant and walking down the street. She's just existing, and no part of her walking down the street — including her pregnancy — is a public display inviting judgment from others.
When the news of Kaling's pregnancy first broke, she was fairly quiet about the details. But when her co-star on the movie A Wrinkle in Time, Oprah Winfrey, let it slip to the press that Kaling is expecting a baby girl, Kaling opened up about the sex of her baby. And she didn't seem too upset that someone else had shared the news first. She told Ellen DeGeneres during an appearance on her talk show, according to E! News:
At first it was like, 'OK, if anyone was going to announce big news about your private life, Oprah Winfrey is the person. You can't complain that much about it. You also can't be like, 'Hey, Oprah, zip it.' Because she's almost like a religious figure."
I actually thought, 'Well, ok, if there's one person I have to tell my daughter about that revealed her existence to the world, Oprah's pretty good...At a certain point, I was like, you can't take it back, so I thought—there are worst things.
It sounds like Kaling initially kept pretty mum about the news, and really only told close friends and others in her life about the pregnancy. She finally confirmed the news in August, after rumors swirled for weeks.
So it seems like Kaling is someone who keeps her pregnancy on the down low as much as she can, which makes the idea that she's "showing off" her belly when she appears in public seem even sillier.
So no, just because Kaling shows up in Los Angeles with a pregnant belly doesn't mean that she's showing it off. She's just trying to live her life, people. As any woman who's been pregnant knows, the world doesn't stop turning just because you're pregnant, and Kaling is a busy lady. Can we just let her live?
Check out Romper's new video series, Romper's Doula Diaries:
Watch full episodes of Romper's Doula Diaries on Facebook Watch.