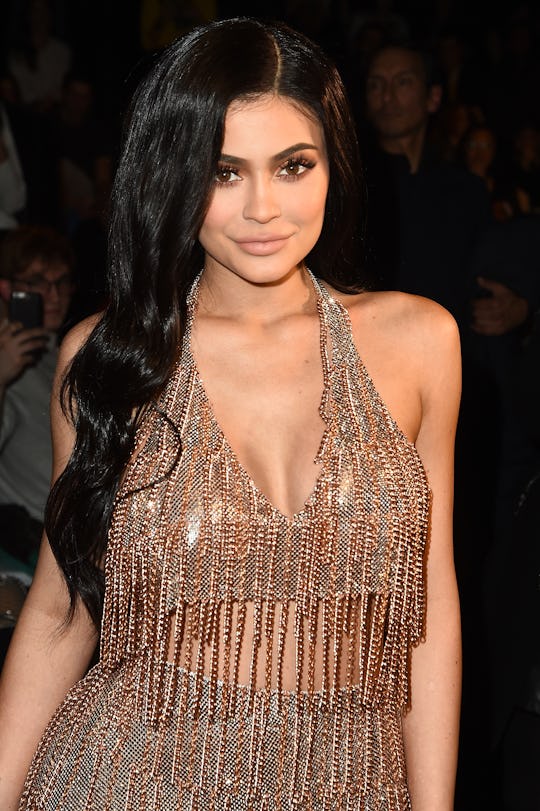 Nicholas Hunt/Getty Images Entertainment/Getty Images
People Are Saying That Kylie Jenner "Trapped" Travis Scott, & It's Just So Offensive
If you are living under a rock, and spent a lot of time under that rock Friday afternoon, then the biggest news to come from the Kardashian family probably didn't make it to you. On Friday, TMZ and People reported that Kylie Jenner is pregnant with boyfriend rapper Travis Scott's baby. Fans rightfully reacted in a lot of ways. But people who are saying that Kylie Jenner "trapped" Travis Scott by getting pregnant are wrong on so many levels.
Here is a lowdown on what has been reported thus far, in case you missed it. TMZ was the first to report on Friday that Jenner was expecting her first child after multiple sources confirmed the news to the outlet. According to TMZ, Scott has also been telling his friends about the news (and that Jenner is expecting a girl) and that his "life was going to change" — so it seems like he is pretty pumped to be a dad.
According to People a source said:
They started telling friends a few weeks ago. The family has known quite some time. She is really excited and so is Travis!
Jenner's representatives have not yet responded to Romper's request for comment.
If these reports are true, then it seems like both Jenner and Scott could not be any more excited and happier to be expecting their first child together. So why are Scott's fans so skeptical of Jenner's reported pregnancy? Seriously, critics and fans alike took to Twitter to say some pretty demeaning things about Jenner and her unborn child and they don't paint Jenner in the prettiest light.
These jokes are not cool. Saying that a woman trapped another man is incredibly sexist. It alleges that Scott has to stay with Jenner to raise their child (he does not) and that Jenner got pregnant with Scott so he wouldn't leave her (highly unlikely).
Saying this implies that Jenner purposefully got pregnant with Scott's baby so he could support them for the next 18 years (which is unlikely, given Scott and Jenner's individual net worths). Most importantly, and perhaps the thing thats most offending — saying this implies that Scott doesn't have autonomy. This implies that he didn't have a say in Jenner's pregnancy or that he can't just leave at any time he wants — for all fans know, this pregnancy was planned.
Scott is a grown man with his own money and his own life. He isn't trapped by any one or anything. Now tell me again why you think Scott is trapped.
In these reactions to Jenner and Scott's news, people also refer to the "Kardashian Curse" which is just as offensive as claiming that Scott is trapped by Jenner. Jenner joked about the curse in an episode of Keeping Up With The Kardashians last year. "The Kardashian Curse is every male that comes and dates a Kardashian," Jenner said. "Their life just kind of goes down hill after that."
Although Jenner can laugh at that, it is wrong for people to say that the Kardashian family has "ruined" the careers of many successful (and still successful) men, just because they dated them. And if fans are so concerned about their favorite musician or athlete falling "victim" to this curse, shouldn't they support them so their life doesn't "go down hill"? If Scott's fans are as loyal as they claim to be, they won't let this happen. And as Complex pointed out last year, the Kardashian curse is not real.
The couple have been dating since May, according to TMZ, and seem incredibly happy together. Sure, this reported pregnancy is very unexpected for both Scott and Jenner fans. But once the initial shock wears off and Jenner and Scott speak out about the pregnancy, their fans will come around. I for one am happy for the couple.
Watch Romper's new video series, Romper's Doula Diaries:
Check out the entire Romper's Doula Diaries series and other videos on Facebook and the Bustle app across Apple TV, Roku, and Amazon Fire TV.