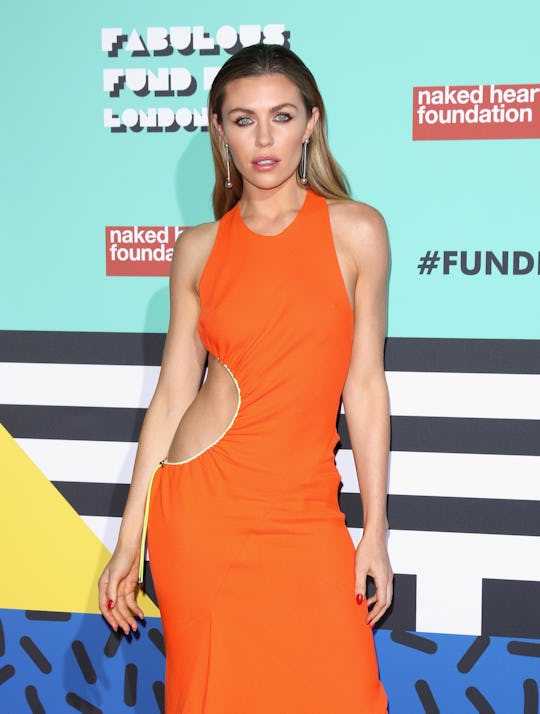 Tim P. Whitby/Getty Images Entertainment/Getty Images
People Are Attacking This Mom For Her Recent Bump Photo, & It's So Messed Up
For some reason that I still can't figure out, people seem to get a kick out of shaming expecting parents. From exercising while pregnant (Khloé Kardashian knows a thing or two about this) to eating so-called unhealthy foods, pregnant people are getting criticized on social media for their personal choices left and right. Which is why I'm not shocked that people are saying this mom doesn't deserve to have kids because of her bump photo. Not only are the cruel comments about the bump pic not OK, but it proves parents have a lot of work to do when it comes to supporting other parents.
Television personality and model Abbey Clancy took to Instagram on Dec. 29 to share a seemingly innocent shot of her growing bump, and the pic isn't getting the reaction she probably expected. Clancy, who is currently pregnant with her third child, according to The Sun, decided to place the emoji sticker "ugh" over her bump, a move which is enraging some of her followers.
Obviously, there are a lot of reasons why Clancy probably used the word "ugh" to describe the shot.
For starters, Clancy is due any day now, so it's possible she's not feeling her best at the moment. In fact, the Mayo Clinic lists "backaches, shortness of breath, heartburn, and frequent urination" as just a few of the super fun symptoms that can occur during the third trimester. So, I think it's safe to say "ugh" might be an extremely apt way to describe how Clancy might be feeling at the moment. Not to mention Clancy revealed that she gets "quite sick" when she's pregnant, according to The Mirror.
Another possibility is the "ugh" could be Clancy venting her frustration that her third baby hasn't arrived yet. Like any expectant parent, Clancy is also probably excited to meet her next child. She basically said as much in an Instagram post from Nov. 30, captioning a picture of her bump: "Hurry up and come out."
But most importantly, Clancy's "ugh" is definitely no one's business, and nobody has the right to judge her parenting for it or to assess whether she deserves kids.
Unfortunately, many fans didn't get the memo that it's not appropriate to shame a person for how they act or what they say while pregnant. One particularly enraged person wrote, according to GoodtoKnow:
Doesn't matter how amazing she looks why is is writing 'ugh' on it! Some people would do anything to have kids! Let alone complain for some people everything comes too easy and things are taken for granted! She needs to think before writing sh*t like that on a photo.
Someone else chimed in, according to Instagram: "How dare you write that! What some people would give for that bump!"
Another person felt it reasonable to ask, "Do you hate babys???"
There are so many shades of wrong here, especially where it concerns the argument that Clancy is somehow taking her children for "granted." Although it's heartbreaking when a person struggles with infertility issues, it doesn't take away another person's right to vent about the ups and downs of their pregnancy.
The good news is many of Clancy's fans defended her against the mind-boggling backlash. One person wrote, according to Instagram:
I think all is mums know the "ugh" feeling in those last few weeks! It'll be worth it in the end as you already know. you still look amazing and I can't wait to see pics of the new addition.
Another fan added:
if you cant say anything nice its best to day now!!!! Love seeing these pics and can totally relate to what she actually means , all the best beautiful momma x.
At the time of this writing, Clancy has yet to respond to the hate. It's likely that Clancy is too busy getting ready for her next child or to secure in her pregnancy to care what strangers on social media think. One can only hope, however, that this controversy inspires fans to be more kind to expecting parents, famous or not.
Check out Romper's new video series, Romper's Doula Diaries:
Watch full episodes of Romper's Doula Diaries on Facebook Watch.