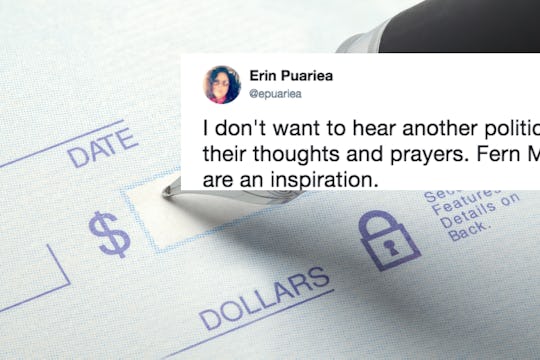 Pixelrobot/Fotolia
People Are Sending "Thoughts & Prayers" Checks To Politicians To Make A Crucial Point
Every time a mass shooting happens in the U.S., we can count on certain politicians to give the same response over and over again — by "sending thoughts and prayers" to victims and family members. You know, that, along with "now is not the time to politicize such a tragedy," when fed-up citizens demand they take action against gun violence once and for all. And yet, the massacre of innocent lives continues. Clearly, these "thoughts and prayers" are getting us nowhere. And to drive this point home, people are sending "thoughts and prayers" checks to politicians to prove a crucial point about gun violence.
As you're probably well-aware, the most recent mass shooting happened this past week at a Parkland, Florida school — and it resulted in a staggering 17 deaths. Allegedly, a 19-year-old former student opened fire with an AR-15 style semi-automatic rifle on Wednesday at Marjory Stoneman Douglas High School. As The Guardian reported, most Americans can buy an AR-15 rifle before they're allowed to purchase alcohol. In most states, in fact, this rifle — which seems to be the weapon of choice in recent mass shootings, according to USA Today — can be purchased in most states starting at age 18. Let that sink in for a moment ...
*Deep breath* So yeah, there's something seriously broken with U.S. gun laws.
In the wake of yet another round of "thoughts and prayers" sent by politicians in place of legislative action, a Michigan women made a bold move. Fern Malila decided to mail a check in the amount of "thoughts and prayers" to Republican Michigan Rep. Jack Bergman, Newsweek reported.
Along with the check, Malila included a letter that read:
Dear Rep. Bergman, since you and your colleagues in Congress seem to feel that this is the solution to mass murder, please accept this contribution.
After Malila shared her simple idea in a (now-deleted) Facebook post, it seems she has started a movement. The post had attracted tens of thousands of shares and likes in just one day, reported Newsweek. And the attention spilled over into other social media channels too. One Twitter user shared her original photos and tweeted, "Let's all do what Ms Fern Malila from Michigan did: but send 'Thoughts & Prayers' checks to ALL MoC who take donations from NRA. Going to need a lot of checks." Another Twitter user shared Malila's photo, writing, "I don't want to hear another politician share their thoughts and prayers. Fern Malila you are an inspiration."
So what inspired her to take action in such a unique way? "I did it because I'm hearing the same arguments after each and every time this happens," Malila told Newsweek. "Each and every news media person says contact your congressman, and Congress doesn't do anything."
The Route 91 Harvest Music Festival in Las Vegas. The Pulse night club in Orlando. Virginia Tech. Sandy Hook Elementary School in Newtown, Connecticut. These are just a few among the most deadly mass shootings of modern times, according to CNN. And now, Marjory Stoneman Douglas High School has been added to this list. Maddeningly, the cycle remains the same every time: The media reports a mass shooting. Thoughts and prayers are sent. Some people point out our country needs harsher gun laws. Others claim "now isn't the time." Time passes. Everyone forgets. Repeat.
In the wake of tragedies like school shootings, it's fine to express condolences. However, the predicable flood of "thoughts and prayers" from lawmakers is particularly infuriating because they are the ones capable of making real change. These deaths are preventable. And yet, innocent children are being killed over and over again in similar attacks.
But we can do something. We can elect lawmakers who will fight for gun safety legislation. We can donate to organizations that support gun control — like and Everytown for Gun Safety, Moms Demand Action for Gun Sense in America, The Brady Campaign, Americans for Responsible Solutions, and Law Center to Prevent Gun Violence, according to LA Weekly. And yes, we can definitely send checks to pro-gun lawmakers in the amount of "thoughts and prayers." Because maybe, just maybe, a swarm of useless checks will finally force our representatives to hear the message loud and clear.