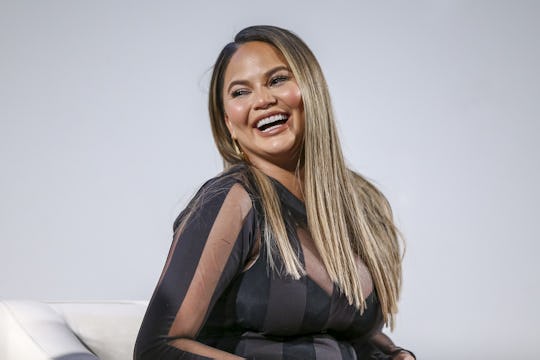 Rich Polk/Getty Images Entertainment/Getty Images
People Are Shaming Chrissy Teigen For Taking A Bath With Her 2-Year-Old Daughter
It's hard not to love Chrissy Teigen. The outspoken mom to 2-year-old daughter, Luna (and one on the way) is known for her honesty when it comes to liking the things that she likes and being open about the things that she doesn't. But that doesn't mean she can please everyone — Teigen is constantly shamed for the silliest of things when it comes to being a parent. On Tuesday, people shamed Teigen for taking a bath with Luna, after she posted a photo of them in the tub — and their reasoning is kind of ridiculous.
Evening bath time with a toddler can be a little tedious, especially when the toddler would rather focus on making a mess than getting clean. But based on Teigen's Instagram post on Tuesday evening, that wasn't the case when it came time to giving Luna a bath. In the photo, both Teigen and Luna took a bath together covered up by shallow bath water, while Luna played with her large selection of bath toys. This moment captured between mother and daughter is so sweet — and Teigen seemed to think so, judging from the caption on the photo. "A splash with toons," Teigen captioned the photo.
But of course, people had some problems with Teigen posting this photo of her enjoying some one on one time with her daughter before she gives birth to her second child within the upcoming weeks, according to Us Weekly (she revealed earlier this year that she is due in June).
Some people were bothered by the fact that Teigen posted a photo of her and her daughter in the tub. "We don't need to see this," one commenter wrote under the Instagram photo. "It is entirely sooooo personal." "Do we need to see this?," another commenter asked. Others weren't too happy with the tub itself. "This bath tub bothers me," one commenter said. "To be honest I thought she would have a bigger bath tub," another commenter added.
Really? You're going to not only shame someone for the kind of bath tub they have but criticize them for wanting to take a bath with their kid? It's natural for Teigen to be in the bath with her daughter — at Luna's young age, she can't take a bath on her own. Children under the age of five should never be left alone in the tub, according to Parents, once a child reaches the age of six, according to Parents, then it is OK for parents to start leaving their children alone for brief periods of time in the bath. In this photo, it was clear that Teigen was not only supervising her daughter in the bath, but she was also getting the chance to enjoy some one on one time with Luna before the new baby arrives. You can't blame her for doing that.
But not all of the comments on the photo were shaming Teigen — some were accusing her of going into labor, based on the size of Teigen's tub and her surroundings. "Am I the only one who thinks this looks like a birthing room?," one commenter asked. "Looks like you're at a birthing center," another commenter added. "I thought she was prepping for a water birth," another said.
Based on Teigen's due date, this isn't that far of a reach. But judging by the fact that Teigen was tweeting about watching TV immediately after posting the photo, it is likely that she wasn't preparing to give birth and hasn't given birth just yet. But just because she hasn't given birth in the past 24 hours, doesn't mean that she isn't ready. Last week, Teigen tweeted that she was "over" being pregnant, according to People. "Happy pregnant Chrissy is gone," Teigen wrote. "Meet OVER IT Chrissy. Wanna hold my boy let's do thissssss."
While Teigen might be "over" her pregnancy, it is clear that she is enjoying the simple moments of her pregnancy — like taking a bath with her daughter. Even mommy shamers can't deny Teigen of that joy before her life is changed within the next few weeks.