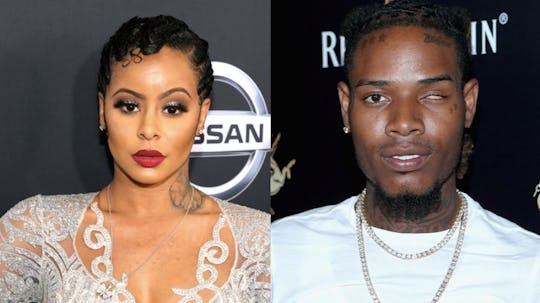 Bennett Raglin/Getty Images Entertainment/Getty Images & Randy Shropshire/Getty Images Entertainment/Getty Images
Alexis Skyy Is Getting Shamed Days After Giving Birth To A Preemie & It's So Unfair
Giving birth to a premature baby can be incredibly scary and stressful. One would hope that people would respond to a new mother's unexpected situation with empathy, but now, people are attacking Fetty Wap's ex Love & Hip Hop: Hollywood star Alexis Skyy for seemingly going out after giving birth to her baby, who was born three months before her due date. On top of that awfulness, commenters on Instagram are also attempting to blame her for her baby's premature birth. It's unfair, deeply infuriating, and probably completely unfounded anyway, given that the picture people are getting so upset about may very well be an old one.
Skyy, 23, gave birth to her first child via C-section, a daughter named Alaiya, after her water broke on Jan. 2, three months before her due date, according to Us Weekly. Alaiya weighed just over 1 pound and was taken to an incubator in the neonatal intensive care unit, but according to The Shade Room, both baby and mother are stable, with the baby is remaining in the NICU for the time being. Both of them are probably in for a lot of hospital time, and a lot of uncertainty, over the coming months.
Then, on Sunday, Skyy posted a picture of herself in which she appeared to be out to dinner, along with the caption "Mom," and all hell broke loose. Immediately, the judgmental comments started rolling in.
Editor's Note: The Instagram post has since been deleted.
In response to Skyy's Instagram photo, one commenter wrote, "your baby is at the hospital bonding with nurses - not you..... smh," while another chimed in, "She should be in the NICU everyday all day never leave until her baby is home..... she has nothing else to do then go out and get all glammed up for her friends????"
They were far from the only ones writing damning critiques of her mothering abilities and passing along their judgment. The whole thing is so messed up, for so many reasons.
First of all, there's no evidence that the photo Skyy posted was current. As some more fair-minded commenters pointed out, it's completely likely that it's an old photo she posted with a new caption. She may very well still be in the hospital herself, or at home recovering from her C-section, and needing a distraction. And now, what she's getting instead is a bunch of strangers telling her how terrible she is.
Secondly, if she did go out, who are random internet commenters to judge? They don't know her circumstances. Again, some on Instagram came to her defense, pointing out that mothers aren't always allowed to stay in the NICU all the time, even if they might want to, and that it's important to maintain one's sanity. As one commenter wrote:
My daughter was in the nicu for 4 months. To think that someone should be in the hospital round the clock with all that beeping and fussing and all the other things that go on without having some time away you're crazy! Let's say she did go out and get a good meal ... who is anyone to say she's wrong! Do the people judging have any kids that have had extended hospital stays??? BC as a parent who's child needs frequent medical intervention and hospital stays, I see nothing wrong and I appreciate the self care
And that wasn't all when it came to judgment. The day before her water broke, Skyy posted a selfie of her pregnancy bump, and in the comments on that one, the haters came out in full force to somehow blame her daughter's premature birth on her.
Editor's Note: The Instagram post has since been deleted.
One commenter wrote that Skyy had jinxed herself by, "Telling the world she pregnant before 3 months," continuing, "I'm not surprised this happened one bit! At the age of 23 there's no reason she should of had a premature baby as healthy as she is!" Others wrote, "You should've been sitting down I saw instead of bouncing around for the gram," and "Told yo azz stay out that club and stop working out there is no way you should have had that baby prematurely."
OK. What in the world is wrong with people? Skyy is going through an incredibly scary time in her life, and the last thing she needs is some strangers telling her that she brought it on herself. Additionally, both she and Fetty Wap have said that they were preemies themselves, as Us Weekly reported, and according to researchers at The University of Aberdeen, premature birth risks may be genetic.
And of course, none of these commenters are judging Fetty Wap for whatever he may or may not be doing right now, proof that the parenting double standard for moms and dads is alive and well.
Perhaps one kind commenter put it best, writing:
Her baby was just born prematurely. Why do people find the need to post negative comments on her pictures? Unless you have something positive or uplifting to say, why bother? It takes a real miserable, bitter individual to hate on someone they don't know... Stop blaming her when you don't even know what the hell actually happened.
Hear, hear. It's nice to know that kindness and empathy can still exist somewhere on the internet. Best wishes to Skyy and little Alaiya on their recovery.
Check out Romper's new video series, Romper's Doula Diaries:
Watch full episodes of Romper's Doula Diaries on Facebook Watch.