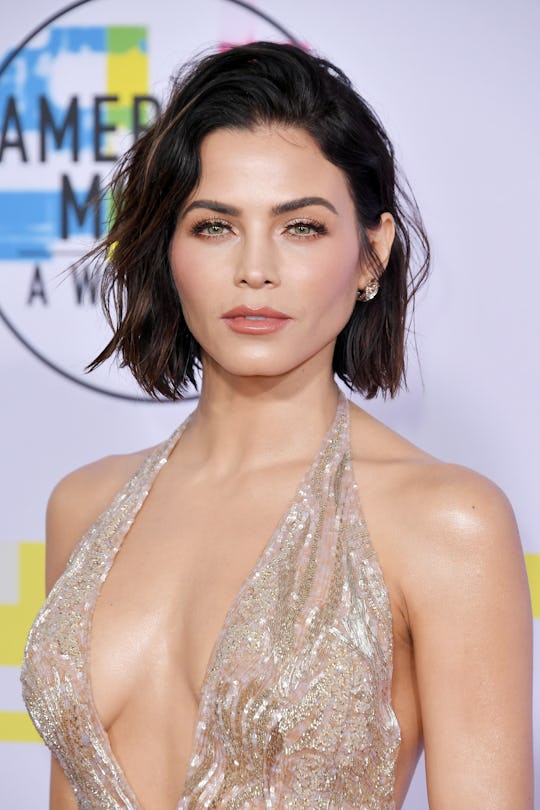 Neilson Barnard/Getty Images Entertainment/Getty Images
People Are Shaming Jenna Dewan For Posting An Underwear Photo After Her Divorce
On April 2, Channing Tatum and Jenna Dewan announced that they would be getting divorced after 7 years of marriage. The news came as a shock to most fans. What's less than shocking, though? People are already judging Jenna for the way she's choosing to move on. Specifically, people are shaming Jenna Dewan for posting an underwear photo right after dropping Channing's last name from her Instagram handle, and TBH, it's pretty ridiculous.
On Wednesday, Elle reported that Jenna had officially dropped "Tatum" from her social media accounts. One day later, People reported that the actress was already receiving backlash from some followers for posting a photo of herself lounging on her bed in a robe, bra and underwear. Some followers commented derogatory terms like "slut," while others reprimanded her for "already drop[ping] Tatum."
Despite the initial mixed response, many fans have come to her defense arguing that it's incredibly unfair, if not sexist, to imply that the photo is not OK because, given the name change, it could signal that she's reclaiming her status as a single woman. "Leave her alone! She's healing her own way and it's none of our business. I suspect she needs to feel strong, independent and good about herself," said one fan. "Let her move on. Let her be happy!!!" said another.
For clarity, that likely wasn't the intent (she is getting divorced, a process during which many women return to their maiden names, and the photo was sponsored content, meaning it was probably just for work) but even if she were, it should be a nonissue. The implication that she's not supposed to date, be sexy or ever move on after her marriage is an unfortunate burden that shouldn't be pinned on women already going through tremendous changes in their lives.
On April 3, Channing and Jenna announced that they were splitting through an Instagram post, first posted by Channing. In it, he said:
We have lovingly chosen to separate as a couple. We fell deeply in love so many years ago and have had a magical journey together. Absolutely nothing has changed about how much we love one another, but love is a beautiful adventure that is taking us on different paths for now. There are no secrets nor salacious events at the root of our decision — just two best-friends realizing it's time to take some space and help each other live the most joyous, fulfilled lives as possible. We are still a family and will always be loving dedicated parents to Everly. We won't be commenting beyond this, and we thank you all in advance for respecting our family's privacy. Sending lots of love to everyone, Chan&Jenna."
However, there were signs that the relationship could end far before that announcement. In April 2017, Jenna did an interview with Redbook in which she opened up about her marriage, saying that as she gets older, she's not afraid to "make waves" anymore. "You change when you're together from 25 to 35. I think maybe in my early 20s, I might have tiptoed around issues or didn't want to make too many waves," she told the magazine. "Now it's like, 'This is how I'm feeling.' You have to be okay with the other person becoming defensive, to let them be emotional and accept that it won't be okay for a while."
Jenna also cited that she and Channing mostly struggled with communication, which research has shown to be the top reason couples split up.
Regardless, finding your way after divorce is no easy feat, particularly when your every move is being tracked and judged by the public. A report by HuffPost stated that experts say remaining optimistic about love, doing things that make you happy, and not being afraid to put yourself out there again are the top things to focus on when recovering from a divorce.
Whether Jenna's Instagram updates were symbols of her new status as a single woman or whether they were work-related and par for the course is absolutely irrelevant. All that matters is that Jenna is finding her way in this new chapter of her life, and that her fans and followers understand there's no wrong way to do that.
Check out Romper's new video series, Bearing The Motherload, where disagreeing parents from different sides of an issue sit down with a mediator and talk about how to support (and not judge) each other's parenting perspectives. New episodes air Mondays on Facebook.