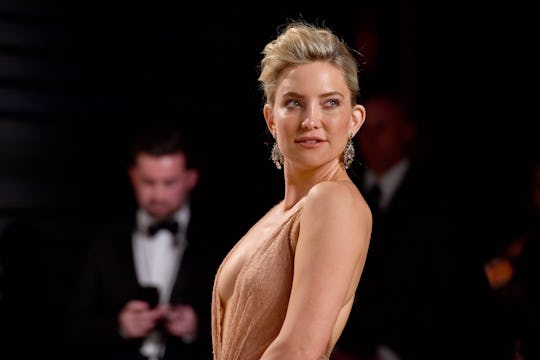 Pascal Le Segretain/Getty Images Entertainment/Getty Images
People Are Shaming Kate Hudson For Having Kids With Three Men
When a celebrity has some major news to share, people take note. I mean, it's a little hard not to when these celebrities and their announcements become a matter of conversation within seconds. But at the same time, celebrities don't necessarily ask for the opinions of others to be broadcast all over. Take, Kate Hudson for example, who announced that she was expecting her third child but first child with her boyfriend, Danny Fujikawa — super exciting news, right? But now that the news has set in, people are shaming Kate Hudson for having kids with three men and it's so not cool.
As previously stated — Hudson is pregnant for the third time — and the announcement could not have been done in a better way. Hudson shared the big news over on her Instagram account where she let fans know that she had something pretty big to share. In the video announcement, Hudson stood next to Fujikawa and her sons, holding four big balloons. On the count of three the balloons popped to revealed that Hudson isn't only expecting a child, she's expecting a baby girl (her first). Cue the shock.
But this surprise announcement (or the baby's sex reveal) isn't the main thing that is leaving fans with their mouths agape. Some people are shocked by the fact that Hudson is having her third child with a different man from her other two kids and are unfortunately shaming her on Instagram and Twitter because of it.
While most of the comments on Instagram are from well wishers, some people on Twitter still took the time to say some not so nice things about Hudson and the fact that she is having her third baby with a third man, separate from her other two sons.
Some found the number three to be pretty daunting.
While others found the news not so exciting at all but still found a way to shame her because of it.
Listen, anyone who has ever been in a relationship (even a perfect relationship) knows that relationships are not easy. Couples break up for so many reasons that people have no idea about. So you can't blame Hudson for having these past relationships — they're in the past for the reason. And you can't blame her for being a mother to three kids either — no one knows her decisions behind becoming a mother other than herself. To shame her for being a mom, but also having her kids from three different relationships doesn't make sense. She's a mom who has had some relationships in the past — so what?
In a 2016 essay penned for InStyle, Hudson admitted that on some days she feels like she is "a bad mother" — but that doesn't give people to shame Hudson as a mother or for her relationships. Just in case people were quick to make assumptions, Hudson is on good terms with both of her exes, whom she shares her children with, according to interviews she has done. And it is clear from these interviews that she loves being a mom. Hudson first gave birth to her son, Ryder Robinson, with now ex-husband, Chris Robinson in 2004. After her and Robinson split up, according to E! News, Hudson told the Daily Mail in 2008 that there was no animosity between her and her ex. "Chris and I divorced for the right reasons — we just didn't work," Hudson said, according to E! News. "But we remain extremely close."
Hudson then gave birth to her second son, Bingham Bellamy, in 2011, but she split up with Bingham's father, musician Matt Bellamy after four years of dating, according to the Daily Mail. In an interview with Allure, according to the Daily Mail, Hudson stated that her and Bellamy keep things amicable for her son, but that isn't to say she wanted things to work out. "If Matt and I had a great relationship, we would still be together, but we chose to move on because we have different visions for how we wanted to live our lives," Hudson said, according to the Daily Mail.
Now, Hudson appears to be so happy in her relationship with Fujikawa, and assuming from her Instagram announcement, could not be any more excited to become a mother of three. Mommy shame, begone. Hudson is just living her life and making the decisions based on what is best for herself and her kids — and people should respect that.