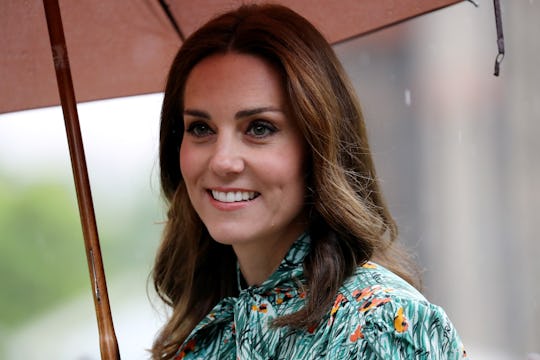 Chris Jackson/Getty Images Entertainment/Getty Images
People Are Shaming Kate Middleton For Her Bump & Really, This Has Got To Stop
On Tuesday evening, the Duchess of Cambridge made her first public appearance since her third pregnancy was announced, attending a reception at Buckingham Palace for World Mental Health Day despite her ongoing struggles with Hyperemesis Gravidarum. But, once the Kensington Palace posted pictures of the event on its official Instagram account, people quickly began to shame Kate Middleton's pregnancy bump — with many quick to criticize the size of her bump, which is absolutely not OK.
According to The Telegraph, Middleton's third pregnancy was announced earlier than the usual 12-week mark, since Middleton's issues with Hyperemesis Gravidarum — a severe form of morning sickness — led to the cancellation of several of her public appearances. According to People, an aide said Middleton was still ill, but fortunately feeling well enough to attend the special event.
"The Duchess' condition is improving but she is still suffering from Hyperemesis Gravidarum," an aide reportedly told People. "She is delighted to be able to be here tonight."
Instead of simply applauding the duchess for making it out for a night, though, many people chose instead to comment on her baby bump and its size — doing everything from accusing Middleton of harboring an eating disorder to commenting that she was too thin to be growing a child. On Twitter, a few reactions were of disbelief at its "small" size:
And on Instagram, the comments grew even worse. "When Catherine admits publicly she is an anorexic and has a severe eating disorders only then I will take her mental health campaign seriously," one commenter wrote. "It is physically impossible to be as emaciated and malnourished as she is and grow a healthy baby."
"I look more pregnant than Kate Middleton but OK," another Instagram user commented.
While some people seemed to think that they were being complimentary with their comments, it's important to know that there's really no good way to comment on a pregnant woman's body (or any woman's body, really). It shouldn't need to be said, but in the same way that comments like "You're bursting!" or "Are you sure there aren't two kids in there?" can be hurtful, so can comments about the small size of a bump.
"Women are really sensitive to these kinds of comments," Toronto-based midwife Barbara Inthavixay told Today's Parent last month. "Instead of infusing her with doubt, what a woman needs to hear is something to buoy her confidence, like, 'You're going to be a great mother.'"
Not only do women not really need anyone else commenting on their bodies, but people can rest assured that a doctor (or midwife or other registered professional) will let a pregnant woman know if her fundal height (the length from her pubic bone to the top of her uterus, and a way doctors measure fetal growth) is out of normal range. If there's something to worry about, trust me — a pregnant woman will already be worried. She won't need extra help in that department, and she probably won't want reminders of her medical issues, either.
On the other hand, if there's nothing to be worried about, then a pregnant woman likely doesn't need any judgment, either — least of all from strangers on the internet.
You never know what a woman's been through with her pregnancy, or what's going on behind the scenes. She could be fighting a severe case of morning sickness, struggled for years to get pregnant, or simply be carrying a few extra pounds. Fortunately, those aren't worries for others to concern themselves with. So if you're struggling with what to say to a pregnant woman, simply extend your congratulations or well wishes and bite your tongue when it comes to any comments about her bump.
Watch Romper's new video series, Romper's Doula Diaries:
Check out the entire Romper's Doula Diaries series and other videos on Facebook and the Bustle app across Apple TV, Roku, and Amazon Fire TV.