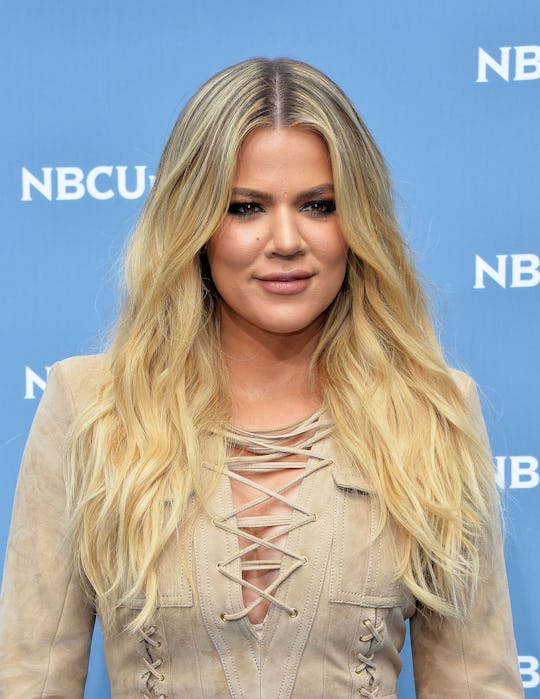 Slaven Vlasic/Getty Images Entertainment/Getty Images
People Are Shaming Khloé Kardashian For Her Topless Bump Photo, & It's Getting Really Old
Khloé Kardashian is currently expecting her first child, and every now and then, she posts updates about her pregnancy on Twitter or on her website to share with her fans and followers. And to her credit, Khloé has continued to promote her denim brand, Good American, throughout the pregnancy. She recently launched the brand's first maternity line, Good Mama, and has been doing some personal promotion for it on Instagram and her other social media pages. Most recently, Khloé shared a topless photo of herself wearing "The Home Stretch" jeans, a new, rather comfy-looking product for expectant mothers. Of course, now people are shaming her for going topless in the Instagram post, and honestly, it's getting really old.
Good Mama is a new line of "premium maternity jeans" for moms-to-be and new moms, according to AOL. And some people are having serious issues with how Khloé has chosen to promote some of her Good Mama products on Instagram — or at least, with how she appeared in one photo promoting one new product in particular.
Khloé is obviously topless in the photo below, which seems like a good way to show off the maternity belly band in the jeans she's sporting. But a lot of people in the comments of that Instagram post have a real problem with the way Khloé appeared in the photo, and they certainly let her know how they felt about it.
Negative comments ranged from, "Your tits are small," to "Jesus enough already, put some clothes on. It's not the immaculate conception. We've all had babies," to "I don't understand why she's topless loool," reminding us all that the internet can be an ugly, jealous place.
A lot of the replies were positive, to be fair, and congratulated Khloé on her pregnancy with well-wishes for her journey as a new mom. But a lot of them were about how Khloé was just "showing" her boobs, and of the "everyone knows you're pregnant, how many more pics do you gotta post about it?!?" variety, that it's clear people still aren't comfortable with mothers expressing or being comfortable with their sexuality and their bodies.
Khloé has publicly struggled with complications during this pregnancy, People reported, and she's addressed having fertility issues in the past, according to Refinery 29. But even if she didn't have those struggles, she should be able to celebrate this pregnancy however she wants, including with topless photos where she's still, by the way, "covered up." And again, she's literally wearing and promoting a product in this photo, so it's not as if the pose is all that inappropriate anyway.
Khloé is the last of the recently pregnant Kardashian family members to still be expecting her baby. She's awaiting the arrival of her first child with boyfriend Tristan Thompson and is clearly very excited about it. Fans found out, thanks to the recent season finale of Keeping Up with the Kardashians, that Khloé is expecting a daughter, People reported. Her sister, Kim Kardashian West, welcomed a daughter — Chicago — via surrogate on Jan. 15, according to Us Weekly. Her other sister, Kylie Jenner, also gave birth to a girl — Stormi — in February.
So the family is probably pretty used to pregnancy scrutiny by now, but that doesn't mean they deserve it. People always seem to have something to say about everything Khloé does on social media, but it's really unfortunate that anyone feels the need to shame her for a topless photo, or for sharing pregnancy photos in the first place. Khloé should share whatever she's comfortable sharing about her pregnancy journey, and haters will just have to deal with it.
Check out Romper's new video series, Bearing The Motherload, where disagreeing parents from different sides of an issue sit down with a mediator and talk about how to support (and not judge) each other's parenting perspectives. New episodes air Mondays on Facebook.