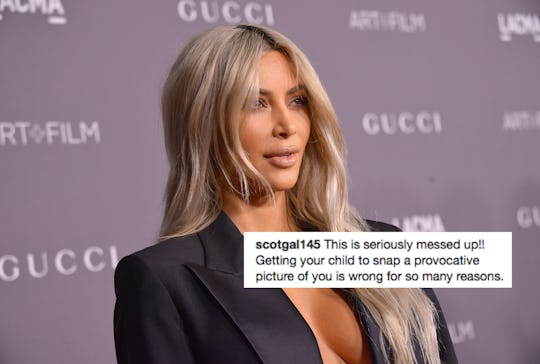 Charley Gallay/Getty Images Entertainment/Getty Images
People Are Shaming Kim K For Letting North Take A Semi-Topless Photo Of Her
It's not the first time fans have seen it happen: Kim Kardashian posts a semi-topless photo on Instagram and followers hate on her for it. This time, people are shaming Kim for letting North take a semi-topless photo of her, according to Radar. And because people don't seem to have anything else to care about — like the fact that there's a white supremacist running for a seat in Congress or the fact that Bermuda just abolished same-sex marriage rights — they're trolling the mother of three on Instagram. Why can't society seem to let moms live?
Kim captioned the photo of her with the back of her bra unhooked, "by North," and it threw her Instagram followers into a frenzy. One commented, "Omg are you kidding me?? Not ok." Another said, "This is too inappropriate... 😲." Another wrote: "Jesus Kim you've really stooped now haven't you. Smh. The last thing your daughter should be taking pictures of is you taking your bra off. Way to teach em young." And yet another said: "North do mom a favor and take my picture but first let me undo my bra!" What the hell?!?! Why cant you keep your damn clothes on lady!!!😑" Others went as far as to question "what kind of mother" Kim is for having North do such a thing, calling it "subpar parenting" and suggesting that, if someone else had done something so atrocious, social services would have been called.
Why do they care so much? Because mothers aren't supposed to have sexuality or nude bodies. How is changing in front of your kid a sexual act? (Oh, right, it is in a world where women's bodies exist as sexual objects — with or without their permission.)
Typically, followers have comments to share about the nudity in Kim's posts. This time they seem to be less concerned about the nudity, and more upset with the fact that North, 4, is the one who took the half-nude 'gram.
Here's the thing: Maybe, just maybe, North is thinking about how cool it is that her mother is comfortable in her skin. Yup, someone already asked in the comments, "If she loved her body so much why did she have a complete surgery body makeover after Saint? Who has that much surgery that loves their body?" To that I say, why does anyone do anything? Does wearing mascara mean you can't love your eyes? Does straightening your hair mean you can't love your locks?
Maybe Kim was just changing, as mothers so often do in front of their daughters, and her daughter decided to play with the camera and happened to catch a candid shot of her mom. Please raise your hand if you have ever been personally victimized by your mother changing her clothes in front of you. *Insert eyeroll*
Maybe Kim asked North to take the photo, or maybe North asked Kim if she could take the photo. Besides, it looks like North might have a promising photography career ahead of her, because it's actually quite the artistic shot. Maybe it doesn't matter what the situation was because Kim is just a mom and North is just her daughter, and they're just two people living their private lives (publicly).
She does have some fans clapping back for her though. One follower commented, "Cute pic.....idk why people are freaking out seriously. I wish I looked half this good when my kids take my picture. 😂." Another said:
Honestly everyone commenting on how Kim is a bad mom is ridiculous. Learn how to raise your own kids & if you hate Kim K all that much than unfollow her but I know you guys won't because you thrive off of hating her for no reason. For all you know, North took this picture accidentally & Kim thought it was funny to post. Kim is a grown woman & if she's comfortable with her body then who tf are you to judge her?
Apparently, Kim recently publicly dissed her celebrity enemies by adding them to her list of press box recipients for her new Kimoji Hearts fragrance line, and she called out reports of "fake news" that she was already planning for a fourth baby with her surrogate, according to Pop Culture. It's TBD if she'll respond to the criticism surrounding her latest Instagram, too.
If she doesn't, it's probably because she's too busy living her life while critics seem too busy obsessing over it.
Check out Romper's new video series, Bearing The Motherload, where disagreeing parents from different sides of an issue sit down with a mediator and talk about how to support (and not judge) each other's parenting perspectives. New episodes air Mondays on Facebook.