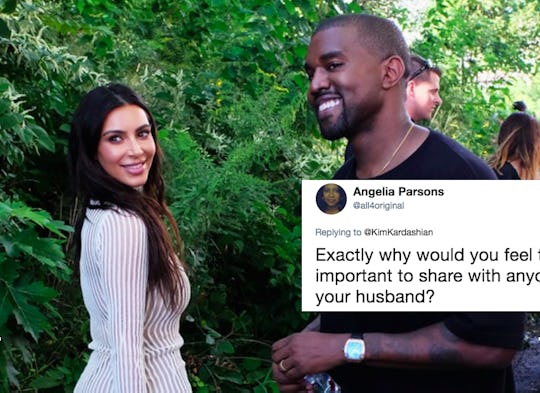 Jamie McCarthy/Getty Images Entertainment/Getty Images
People Are Shaming Kim K For A New Naked Photo — & This Time, They're Dragging In Kanye
Well, it looks like Kim Kardashian is attempting to break the internet yet again. On Monday, the KKW Beauty mogul posted a rather revealing photo of herself. The controversial shot features the reality star standing in her underwear with a robe loosely draped over her shoulders with everything in the front visible, aside from her lightly-blurred nipples. And now, people are shaming Kardashian for this new naked photo, slamming her parenting priorities and adding in a general slew of mom-shaming comments. But, this time, it's a bit different — this time they're dragging in her husband Kanye West.
In the past, Kardashian has been notorious for posting naked or near-naked shots of herself via social media, or on the cover of magazines. Typically, the mom of three is bombarded with a slew of mom-shaming comments. Because apparently once a woman becomes a mother, she's not allowed to pose in sexy photoshoots. Ugh. This time around, however, her Instagram followers are wondering what West thinks of the photo — or how he "allows" Kardashian to share such racy poses.
"Where is her respect for her husband?? That much skin should be for his eyes only!" one Instagram follower wrote. "Where is Kanye West ????" another person commented.
Yet another person chimed in with, "Seriously like grow up ur a middle aged woman with 3 kids and a husband why would he or they want other people seeing u like this... pure disrespectful to him and your poor children."
Editor's Note: The Instagram post has since been deleted.
And of course, plenty of followers engaged in the predictable mom-shaming yet again. "This could prove to be a nice ice breaker at parent-teacher night at your daughter's school," one Instagram follower quipped.
"Your[sic] a mum have some respect," another person commented.
"God this is who North has to look up to," yet another follower wrote.
"Really Kim??!! Think about your kids!! Put them before likes!!!" someone else pleaded on Instagram.
Still, a few commenters came to Kim K's defense. "Some of y'all are so judgy," one follower wrote. "Y'all should be use to her showing her body. She grown and do whatever she pleases to.. Mom or not.. #myopinion"
"She can do whatever makes her happy," another Instagram user wrote. "And she is confident. Is there a problem with that??"
Shortly after Kardashian posted her initial nearly-nude photo on Monday, she added two more Instagram posts featuring similarly risque poses. Like this image of her in the shower.
Editor's Note: The Instagram post has since been deleted.
And this photo of Kim K casually looking at old photographs while lying in bed wearing a thong that accentuates her signature behind.
Editor's Note: The Instagram post has since been deleted.
The way I see it, Kim Kardashian is free to post whatever photos she so wishes. Mom or not, wife or not, she doesn't need anyone's permission to show off her assets. Obviously, Kim K is confident about the way she looks. She even shared this nude photo just days after welcoming her third child, as reported by Us Weekly.
And who could forget this sparkly masterpiece of Kardashian wearing literally nothing but a glamorous coating of glitter? W Magazine reported back in November that this dazzling shot was part of campaign promoting her Ultralight Beams highlighters and lip glosses. Considering this photo attracted nearly 3 million likes on Instagram, I'd say it did its job.
So obviously, Kim K's unconventional strategies help promote the KKW Beauty brand. And who knows? Perhaps Kardashian finds it personally empowering to putting her hard work on display. Or maybe, just maybe, her husband is the one behind the camera in her latest series of nudes. Either way, I think it's best if people backed off and stopped dragging Kanye into the their nasty comments. Because she's a grown-a** woman. And as she's proven time and time again, she's more than capable of handling herself.