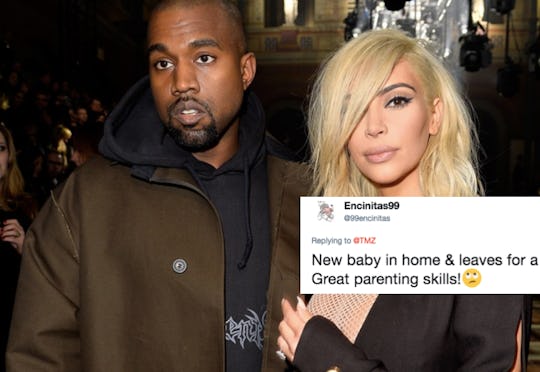 Pascal Le Segretain/Getty Images Entertainment/Getty Images
People Are Shaming Kim & Kanye For Going Out After Their Baby's Birth & Ugh, C'mon Guys
The days immediately following the birth of a new baby are different for everyone. Some babies sleep through the night, others are up and fussy. Some parents drop everything and focus on nothing but the baby, others have to resume business as usual. Everyone has their own normal and what works for them. But, now, people are shaming Kim Kardashian and Kanye West for going out after their daughter, Chicago West, was born on Jan. 15. And it just shows that decisions like these are the subject of scrutiny, just like so many other parts of parenthood. It is, of course, no one's business but their own as to how they spend their time, but that hasn't stopped the comments from critics from pouring in and making unsolicited judgements about their parenting style.
TMZ reported on Sunday that Kardashian and West were out on Saturday night at a film screening of Honor Up, and it was the first time they were seen in public since welcoming their third child together via surrogate. The couple hosted the showing at West's Calabasas office and viewed the film along with Damon Dash, Terrence J, and others, according to TMZ. Considering they were the ones holding the event, I would say it was pretty important for them to be there.
However, many commenters on TMZ's article and associated tweet wouldn't agree. Criticism of the couple ranged from comments about their appearance, to general mom-shaming, to criticism of Kardashian's choice to use a surrogate for Chi's birth.
Commenters on the article didn't hold back when it came to voicing their opinions on the couple's parenting that, frankly, no one asked for. One comment on the article reads:
They spent what, four or five days pretending to be parents before they got bored with their latest accessory? Not bad for these two. Now, back to their mirrors and egos! Was nice while it lasted.
Another said, "The baby isn't even a week old and the nanny is already on full duty. I wish I could say I was surprised." Others took the photo as an opportunity to criticize Kardashian for using a surrogate mother. One suggested that she did so to save her appearance, writing:
Kim and Kanye hiring a surrogate was fine because as we all know, the most important thing when bringing a new baby into the world ... is making sure the 'mother' is photo ready minutes after the birth. *insert eye roll here*
Yeah, well we're rolling our eyes, too, guy.
Another pointed out her inability to breastfeed Chicago, saying, "Epitome of sheety [sic] parents. Nanny doing all the work. Kim don't even have breastmilk." And yet another apparently thinks that Kardashian chose not to carry her own child, "Oh, so THAT'S why they used a surrogate — so their social life wouldn't be interrupted. And here I thought it was all about Kimmy's health."
Kardashian has opened up numerous times about the reasons why she went with a surrogate mother for Chicago, not least of which was her life-threatening placenta accreta. She has also explained how difficult it was for her to not carry Chi herself. The fact that internet trolls would go after her for something so personal and heartbreaking shouldn't surprise me, but it does.
Unfortunately, the voices of Twitter weren't much kinder. Take a look at some of these replies.
Thankfully, not everyone was out for blood. One user on Twitter posted three successive tweets in support of the couple, pointing out the pettiness of the other users.
Parenthood is hard enough without an internet militia firing insults at you over multiple platforms. Kim and Kanye have been through enough when it comes to growing their family. Your criticism? Save it.
Check out Romper's new video series, Romper's Doula Diaries:
Watch full episodes of Romper's Doula Diaries on Facebook Watch.