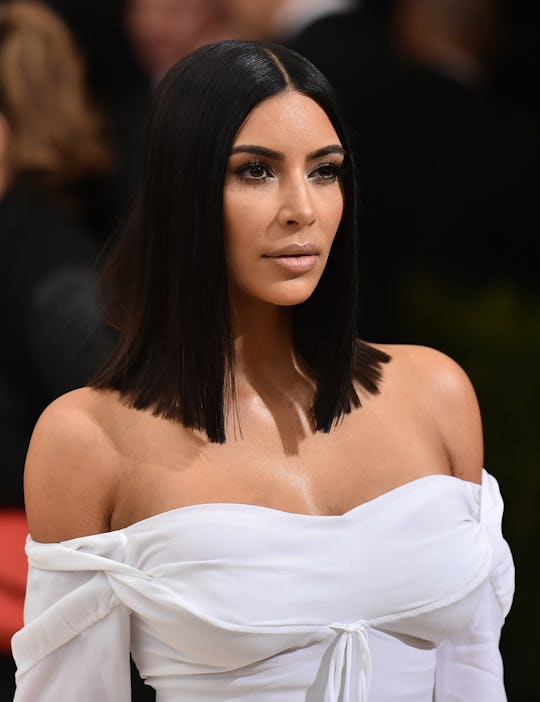 Mike Coppola/Getty Images Entertainment/Getty Images
People Are Slamming Kim Kardashian's Bikini Selfie For A Ridiculous Reason
Sometimes it seems like this reality star can't do anything right. Take, for example, the way people are slamming Kim Kardashian for posting a selfie on Sunday morning, mere hours after Beyoncé performed at Coachella. To most people, those two things have absolutely nothing to do with each other. But not to haters on the internet, who insist on pitting two successful women against each other no matter what. You'd think we'd be past this by now.
As you might have heard, Coachella, a music festival in Indio, California transformed into #Beychella on Saturday night. The performer slayed a two-hour set, in which she wore custom Balmain costumes, did a duet with her husband, reunited Destiny's Child for three songs, and had a dance break to "Get Bodied" with her sister, Solange. It was awesome. On social media, Bey fans and people who have never even heard one of her songs alike gushed about how stellar the performance was, with some people suggesting that it solidified her role as the best performer of all time, even above Janet or Michael Jackson.
All good news.
In completely unrelated news, on Sunday morning, Kim posted a bikini selfie, as one often does when one is Kim Kardashian. She captioned the pic, "Morning" with a little sunshine emoji. It's unclear whether Kim was at the festival, though her sisters Kylie and Kourtney have been posting pics from the desert. Yet people are convinced that Kim's selfie is a sign that she has some sort of "FOMO" or is so jealous of Beyoncé that she has to post a bikini selfie to somehow take attention away. It's absurd.
People have flooded Kim's Instagram page with nasty comments like, "KIM ALWAYS TRYING TO OUTSHINE BEYONCE WHEN SHE CONTINUES TO DO EPIC STUFF. YOU'LL NEVER BE ON BEYONCE'S LEVEL! JUST GIVE IT UP IT'S RIDICULOUS!" Another person wrote, "Like this comment if you knew she was do this shid after #Beychella."
It's even spread to Twitter:
It goes on and on like that. People have been mumbling about a Bey and Kim beef for as long as both of them have been famous. The fact that JAY-Z and Kanye West have a falling out, which JAY-Z opened up about in his New York Times interview last year. Earlier this year, Beyoncé rapped on a DJ Khaled track, "Top Off" and some people thought that she was shading Kim with a reference to "breaking the internet" and her body and money being "real." They've been spotted hanging out with the same people, such as Serena Williams, so they definitely know each other.
But we don't know that there's any actual feud between the two women, and there shouldn't have to be. Not all famous women have to be friends, but that doesn't mean they have to be enemies. To suggest that Kim or Beyoncé are competing with each other perpetuates the very sexist myth that there is only room for so many successful, fire women in this world.
People Really Won't Have It, Though
That's just not true — and really holds all women back, something which both Beyoncé and Kim are not about. Beyoncé is all about uplifting and celebrating women, especially women of color. Kim might be a little problematic sometimes (see: cornrows and alleged blackface), but she roots for women, too, as fans of hers know from her show, social media posts, and recent activism. They likely spend very little time thinking about tearing each other down, if only because they're both mothers of three children and busy AF.
There's more than enough room for Kim, Beyoncé, and all the other women in the world to be the best they can be. Sure, Kim is seeking attention with a bikini selfie. That's what she does. But she's not trying to change the conversation away from Beyoncé.
For one, they're two different things altogether. Kim doesn't sing and dance, and Beyoncé doesn't sell makeup or have a reality show. There's no competition there at all. You might like one more than the other, but manufacturing a "catfight" is backwards.
Also, for what it's worth, Kim posts some version of the same sort of selfie almost every day and often with a caption somewhere along the lines of "good morning." This is just what she does, and it has nothing to do with battling Beyoncé. Both of them can be appreciated for their respective successes without one of them losing anything. Manufacturing drama doesn't do anyone any good, whether you're a fan of either of them or not.
Check out Romper's new video series, Bearing The Motherload, where disagreeing parents from different sides of an issue sit down with a mediator and talk about how to support (and not judge) each other's parenting perspectives. New episodes air Mondays on Facebook.