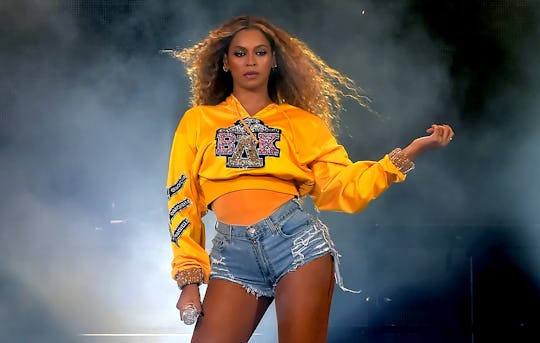 Kevin Winter/Getty Images Entertainment/Getty Images
Fans Are Totally Convinced That Beyonce Is Pregnant Yet Again
When you're a female — and especially one who happens to be in the media spotlight — it seems like people are always speculating about your body. If a celeb gains a few pounds or is seen in public after eating a particularly large meal, the pregnancy rumors always have a way of running rampant. Apparently, a so-called enlarged abdomen can mean one thing and one thing only: there's a bun in the oven. (Never mind that certain medical conditions, that time of the month, or a giant burrito might also have similar bloating affects. Nope.) Recently, one fan base in particular has started going crazy over such a possibility. And his time, it's the Beyhive is abuzz with "sightings" of a potential bump. That's because people are spreading rumors that Beyoncé is pregnant again, thanks to this video.
As Us Weekly reported on Tuesday, fans seem to think Beyoncé was sporting a bit of bump while performing on Sunday in Rome. A few fans who were at the concert posted videos of the 22-time Grammy Award winner on stage as part of her On the Run II tour with her husband, JAY-Z. (This concert tour kicked off in June and was announced back in March, Glamour reported.) In these recent clips, Beyoncé was performing "'03 Bonnie & Clyde" while wearing a figure-hugging silver dress, when at the end of the song — and she even appeared to rub her tummy and smile at the audience before walking away. Of course, something like this is all it takes to stir up the rumor mill.
One Twitter user — who was evidently among the crowd at the Rome concert — is certainly convinced. Along with a video of the Queen Bey reportedly sporting a bump, the fan wrote, "Beyoncé is really pregnant again.. and she's about to be a mother of 4 WOW."
Another fan posted a closer video clip of her performance, also tweeting, "Beyhive is Beyoncé bloated or pregnant?"
Other fans seem less than excited about the prospect of another Beyoncé pregnancy. "Beyonce is pregnant...she's about to disappear for another 2 years," one Twitter user lamented, along with a GIF of Kris Jenner crying.
Another Twitter user wrote, "I don't want to think Beyoncé is pregnant but I think Beyoncé is pregnant."
Still others pointed out that Bey and JAY do kind of have a thing for the number four. (If you remember, Beyoncé and JAY-Z are already parents to Blue Ivy, 6, and twins Rumi and Sir. So one more would be four kiddos.) Let's take a look at why the number four has been so important to the famous parents. As BuzzFeed reported, Beyoncé, Jay, and Beyoncé's mom were all born on the 4th. Plus, the Carters were married on April 4, 2008. And don't forget, Blue Ivy's middle name is "Ivy" because "IV" is the roman numeral for the number four. So of course they wouldn't stop until they had four children, right? Oh, and remember JAY-Z's album titled 4:44? Yep. It's difficult to deny that the number four is a pretty big deal to the Carters.
But wait! As some fans have pointed out, Beyoncé posted a video of herself just a week ago that included her sitting barefoot next to what looks like a bottle of beer. So she couldn't possibly be pregnant if she's still enjoying alcohol, right? Or maybe she's just messing with everyone?
So which is it: Is that concert "bump" — and on-stage belly rub — for real? Or are fans just jumping to conclusions over a simple case of bloating? The thing is, none of us will know for sure unless Bey herself comes out and confirms or denies the rumors. And until that happens, it's probably best for fans to CTFD. Because after all, if she isn't pregnant, then it probably doesn't feel too fantastic to be called out for sporting a bit of a tummy in front of the whole world. Let the Queen have some peace!