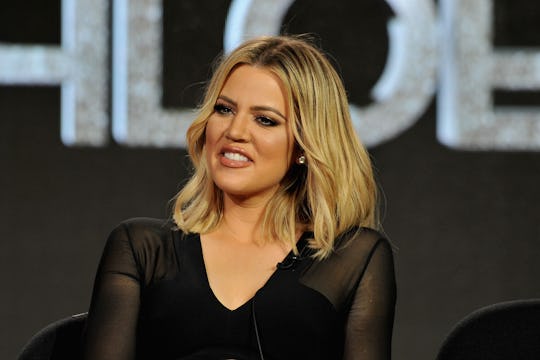 Jerod Harris/Getty Images Entertainment/Getty Images
People Are Still Asking Khloé Why She's Staying With Tristan, & It's Getting So Old
Khloé took to Twitter Thursday for the first time since having her baby to share how equally happy and sad she was that True turns one month old tomorrow, and most of her followers seem pretty excited for the new mom. But, nonetheless, some people are shaming Khloé for her relationship with Cavaliers star Tristan Thompson, though it's none of their business — and, frankly, her relationship status is irrelevant right now. After years of hoping for her own family, The Keeping up with the Kardashians reality TV star is finally a mother — and her fans should be focusing on the health and happiness of her growing family at this time, just like she seems to be.
Khloé and Tristan started dating in September 2016, announced their pregnancy via Instagram on Dec. 20, and welcomed their firstborn daughter around 4 a.m. at a hospital outside Cleveland on April 12, TMZ reported, though they didn't have a name for her just yet. They finally announced the baby's name, True, days thereafter, and, now a whole month has passed by. But as all of this news was breaking, so were rumors that Tristan had been allegedly cheating on Khloé... and, naturally, Khloé fans were not, well, fans of all the buzz.
The news of Khloé's birth came just shortly after rumors that Tristan had allegedly cheated on her, as photos and videos purporting to show the Cleveland Cavaliers player kissing another woman at a New York City club surfaced. TMZ had published another video allegedly showing Tristan with two women at a hookah bar back in October, too. Romper's requests for comment from both Tristan and Kardashian's team regarding the cheating allegations were not immediately returned, and neither of them have publicly commented on the allegations. But that hasn't stopped social media users from voicing their two cents.
Flash forward one month: Khloé tweeted about her disbelief that her baby will be four weeks old tomorrow. She asked, "Why does this make me happy and sad all at the same time?" And she expressed her thanks for her sweet peanut. And while some fans seem to be sharing in her excitement, congratulating the new mom and begging for photos of her "sweet peanut," other follows had some choice words to share about reality star's decision to stay in a relationship with Tristan despite the rumors.
"Don't be sad Khloe, just leave Tristan already!" one Twitter user wrote.
Another commented, "I wonder how many times Tristan cheated on you during that whole time I mean if he didn't respect you while you were pregnant what makes you think he'll respect you now."
And another even said, "Sad that u decided to stay with him,i stayed because I loved him and for the sake of our baby.he ended up sleeping with my friend and everyone around me.he was very charming and convincing."
One person even tweeted, "Ewww, Khloe how can you stay with that serial cheater it's not like he was just cheating with one woman. Tristan humiliated you in front of the world to see... #nopride"
To be honest, Khloé's relationship is totally irrelevant at the moment because her baby is healthy and she's happy, and that's all she was sharing on Twitter. And shaming a grown woman for choosing to stay with the father of her baby for rumors that fans don't even know for sure are accurate is totally uncool; besides, if she'd chosen to leave, I'm pretty sure people would have choice words to say about that decision, too. She's damned if she does and damned if she doesn't.
Khloé has wanted to be a mom for years, always playing with her nieces and nephews having water balloon fights and dance parties, baking, and doing arts and crafts, according to Us Weekly. She reportedly said she feels like "a big kid" herself, and loves kids. While she'd never put pressure on her family plans, she felt it in her soul, according to The Evening Standard.
"I would love to have a family," she reportedly told The Evening Standard in April 2017. "[Tristan already] is a father and I know for a fact that he would be an impeccable father."
Shall we let Khloé's private life be private and just revel in the fact that she's finally a mom and proud of it?