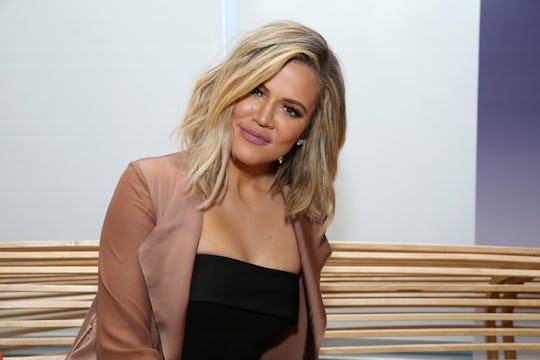 Cindy Ord/Getty Images Entertainment/Getty Images
People Are Talking About Khloe Kardashian's "Bump" In Her Latest Instagram Photo, & It's *So* Ridiculous
If you haven't already heard, Khloé Kardashian is pregnant. Well, she might be Fans have almost no proof at all and it's entirely speculation, but rumors are flying about Kardashian possibly expecting a baby with her boyfriend, Tristan Thompson. Kardashian herself has been playing coy, and hasn't really confirmed or denied anything, but she has a very active social media presence where she's teased fans with recent photos that have kept them guessing. Now, people are talking about Khloé's "bump" in her latest Instagram photo, and it's kind of ridiculous, because, um, there's not really a way to even see a "bump" in the shot.
In a photo Kardashian shared with her Instagram followers on Monday, she wore an all-black outfit that included a "low-cut corset-like sheer top" plus a large, black, knit sweater over it, according to People. Her arms and the sweater are covering her stomach in such a way that it would be impossible to see a "bump" there, if there's even one to see in the first place. But that hasn't kept fans from talking about the photo anyway, and looking for any possible hint that the Keeping Up With the Kardashians star is in fact pregnant and starting to show.
The caption Kardashian chose had nothing to do with a "bump" or a possible pregnancy, and everything to do with getting a great photo of herself, something a lot of people can probably relate to (though the rest of us of course don't have the amazing photo and perfect-lighting opportunities the Kardashians do...). The caption read, "I think I only say yes to interviews so I can get a good picture with the good lighting 📸"
But the proud caption she chose didn't stop outlets from saying Kardashian was "showing off her assets" in the picture, like People suggested. Fans also suggested that she has a "bump " in the replies to the post — with zero explanation as to how they can tell when it's impossible to actually see her stomach. Some requested that Kardashian "announce" her baby already, with one even saying she had a "pregnancy and happiness glow" in the photo. Again, Kardashian has not actually announced that she's pregnant, so that glow could easily be the "good lighting" Kardashian mentioned, and not a "pregnancy glow" at all.
Many of the replies on the post talked about how beautiful Kardashian is, and how much her fans love her. However, other recent posts Kardashian has shared to Instagram have included more demanding replies, with fans scrutinizing every detail of each photo to look for *any* hint of a pregnancy.
Kardashian's sister, Kim Kardashian West, is expecting her third child via surrogate, and recently had a cherry blossom-themed baby shower to celebrate. Khloé posted a photo of herself from the event on her Instagram, and, of course, fans went in on the pregnancy rumors yet again.
"She is beautiful! She is also stunningly beautiful with child," one reply read. But others stated that she's "defo not pregnant," or at least doesn't look pregnant in the photo.
The obsession with Kardashian's body and whether it looks pregnant has been non-stop for months. In a series of photos Khloé posted to Instagram in early October, fans were convinced they saw some sort of bump in at least one of the shots.
Responses included comments like, "U look good preggers the glow up!," "If you're pregnant you make it look damn good!!! 😍😍👍👍." Not only is it a little silly that people are so obsessed with finding a "bump" in Khloé's Instagram photos, it's pretty offensive. If she were pregnant, maybe she isn't showing in the same way other pregnant women might. All pregnancies are different, and our expectation that they all look the same ends up alienating parents whose pregnancies might not show as much. But, all of the obsession on whether she's pregnant also shows that, as a woman celebrity, sometimes the most newsworthy thing you can do is get pregnant, even if you have your own business or are incredibly involved in philanthropy. When it comes down to it, if Khloé is pregnant, she will let fans and the public at large know when she's ready.
Check out Romper's new video series, Romper's Doula Diaries:
Watch full episodes of Romper's Doula Diaries on Facebook Watch.