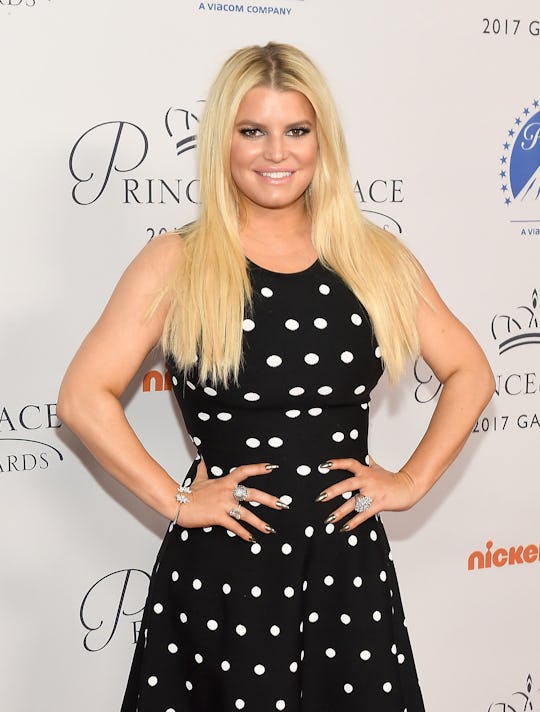 Matt Winkelmeyer/Getty Images Entertainment/Getty Images
Fans Are Mad Jessica Simpson Didn't Smile At Her Son's Birthday Party
Jessica Simpson loves to post photos of her two kids' adventures on social media, especially where it concerns their milestones. And on Sunday, Simpson shared a photo from her 5-year-old son's "baseball and parrots" birthday bash, an event that featured lots of colorful birds and baseball attire. Although many fans can't get enough of the cute pic, some people are mad Jessica Simpson didn't smile her son's birthday party. Yep, that happened. Not only is the backlash misguided, but it also reinforces unfair expectations women face everyday.
Simpson, similarly to other celebrities out there, does an awesome job of throwing her two children creative birthday parties. Simpson's 6-year-old daughter, Maxwell, received a The Greatest Showman-themed bash in May, complete with a circus tent. And when Simpson's son, Ace, turned 5, she organized a unique "baseball and parrots" party. While the connection between baseball and parrots isn't too clear (inform me if I'm missing something), you got to give Simpson props for creativity here, especially since it looks like Ace had a blast on his special day.
"Baseball and Parrots- a five-year-old's dream come true," Simpson captioned a snap of herself posing alongside her smiling husband, Eric Johnson, and two kids on Instagram. "ACEKNUTE #5 #Parrotdise #GreenSox."
As you can probably tell from the photo, Ace loved the party. It's clear the little guy has a fascination with parrots, and it's great Simpson was able to put together such a unique day for his 5th birthday.
Of course, Simpson's haters aren't content to focus on the positives of the party. As it turns out, some people are *really* upset Simpson didn't flash her pearly whites for the camera.
"I'm glad your kids will look back on these pics and see that their mom cared more about looking "good" in pics rather than actually smiling and having a good time," one person commented on Instagram. "#unfollowingyou."
Another fan chimed in: "Imagine taking a family photo and this is the face you make."
"Come on! Get into it mama," someone else said. "Your children and husband look like they are having fun. Take one for the team."
"Just smile, the rest of your family is," one person added.
Yep, the photo's comments section is full of people admonishing Simpson for not smiling. Sigh.
It goes without saying Simpson isn't obligated to smile in every single photo she takes. I'm sure Simpson was full of smiles throughout Ace's party, and one picture isn't indicative of an entire day. Not to mention, it's totally possible Simpson is afraid of parrots — a theory backed up by a snap she posted later in the day.
"I'm totally comfortable here," Simpson sarcastically captioned a pic of herself and Johnson holding parrots.
Given Simpson's hesitance with parrots, it's not difficult to understand why she didn't smile in the photo.
At the of the day, however, it doesn't matter why Simpson didn't smile. No woman should be told to smile, even if it comes from a well-intentioned place. Women are too often instructed to smile, and this practice is widely considered a form of gender harassment.
Bené Viera, a writer and activist, told HuffPost about the frustrating phenomenon:
"Men tell women to smile because society conditions men to think we exist for the male gaze and for their pleasure. Men are socialized to believe they have control over women's bodies. This [is the] result in them giving unsolicited instructions on how we should look, think and act. Essentially what a man is saying when he tells a woman — one he doesn't even know — to smile, is that his wants outweigh her own autonomy over how she exists in the world."
As for why fellow parents and women would criticize Simpson's lack of a smile, I'd say it all boils down to mom shaming. Mothers face the unfair expectation of having to look and act perfect with their kids 24/7, a pressure dads don't have to deal with as often. If Johnson didn't smile in this pic, for instance, I don't think there would be as much criticism. And sadly, many women misdirect their frustration over this double-standard at other moms. It's a vicious cycle.
The good news is some of Simpson's fans defended her against the backlash.
"Stop telling people to smile," one person wrote. "Stop demanding people smile. Just stop."
"Stop telling women to smile! She's just not smiling lol," another fan agreed. "She'll look back and say.. remember when y'all made me pose with that darn bird on me."
"What a beautiful picture, such a gorgeous fun family," someone else said. "I like the way you're looking, it's fierce. You don't have to smile in all your pics. I think it's cute x."
The moral of the story? Put the parrot on your head and keep your tweets to yourself.