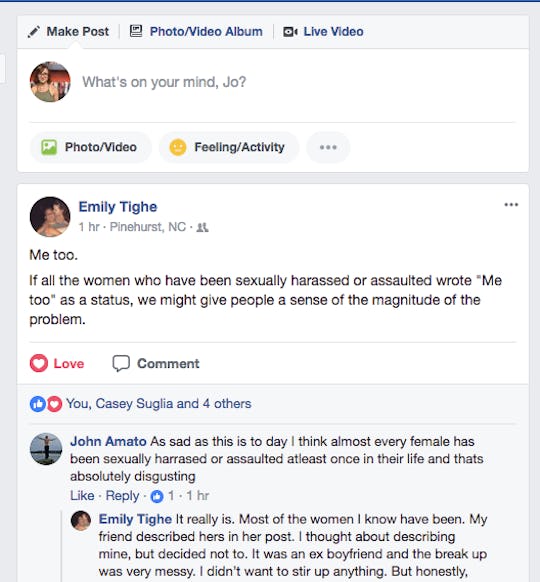 Screenshot/Josephine Yurcaba
Seeing "Me Too" All Over Facebook? There's An Important Reason Why
There's no question that the recent slew of allegations of sexual assault and harassment against disgraced movie producer Harvey Weinstein have been shocking and hard to hear. But though the stories of countless Hollywood women are heartbreaking, they're also far from being surprising. For women in all industries — and really, for women in general — sexual assault and sexual harassment have long been a reality that gets ignored, dismissed, or downplayed all too often. But on Twitter, people are using #MeToo to show how commonplace the behavior really is, and it needs to be a huge wakeup call.
The trending hashtag emerged on social media Sunday, and has been credited to actress Alyssa Milano, who tweeted "If all the women who have been sexually harassed or assaulted wrote 'Me too' as a status, we might give people a sense of the magnitude of the problem," according to CNN. #MeToo tweets quickly came pouring in — Milano's original tweet alone received more than 34,000 replies — and have proven that while the Weinstein scandal is certainly horrifying, perhaps the worst part is that it's only a small aspect of a much larger and more pervasive problem that seems to affect far more people than it spares.
More than 30 women have now come forward with accusations against Weinstein, who has since been fired from his company, and expelled from the Motion Picture Academy, according to The Telegraph. But as much as the scandal is about Weinstein's alleged heinous actions and abuse of power, it's also become a catalyst for another important conversation: the reality of harassment and assault that women face on a regular basis in a seemingly limitless number of ways.
It's certainly not the first time stories suggesting the pervasiveness of sexual assault have come forward: Weinstein joins director Woody Allen, comedian Bill Cosby, and now-president Donald Trump as being just a few high-profile men accused of sexual assault in recent years. All have publicly denied the allegations against them though, and in a statement, Weinstein's rep Sallie Hofmeister emphasized that "allegations of non-consensual sex are unequivocally denied by Mr. Weinstein," according to Entertainment Weekly. Weinstein's rep has not responded to Romper's request for comment.
But the accusations do at least seem to be taken more seriously this time around, with fewer people ready to discredit the accusers, and fewer people offering the accused men the benefit of the doubt.
In addition to highlighting the violence and harassment that women face at the hands of mostly men, the #MeToo hashtag has also allowed other men, especially those who are gay or transgender, to admit how often they, too, experience that kind of behavior.
And if nothing else, the number of people coming forward on social media is confirmation that little has been done to either address or even validate the problem. (After all, for all those who have felt enabled to speak up, there are also countless others who haven't.)
The Weinstein accusers' stories have certainly helped reinvigorate a much-needed discussion about sexual assault, and about the need to support survivors and believe them when they speak out. But what #MeToo is proving is that the momentum gathering around this scandal needs to continue, so that we can finally begin addressing the issue without downplaying it, or allowing ourselves to forget about it because the reality is uncomfortable.
Perhaps one of the most significant aspects of the Weinstein fallout though is that it's meant that so many high-profile, respected women have come forward with allegations against him. Although no woman, or person in general, deserves to have gone through any of the things they've claimed, the fact that they've spoken up helps to further legitimize the reality of sexual assault — and it proves that it literally can happen to anyone, even A-list actresses.
Although the focus might naturally be on Weinstein at the moment, the #MeToo movement shows that the fight against sexual assault definitely cannot end with him. For everyone who joined in with their own #MeToo, and for everyone who couldn't, we need to continue talking about it, feeling outraged, believing the stories of those who come forward, and not allowing anyone to shrug off accusations or suggest that the survivors were to blame.
Sexual harassment and assault of women might be a normalized aspect of the kind of misogyny that has long be ingrained in society, but it doesn't mean it's inevitable, or that change can't occur. Weinstein's victims opened the door for progress to be made. Now, we, too, have to make sure their voices, and everyone else's, aren't forgotten or silenced by those who have been able to get away with this behavior for far too long.