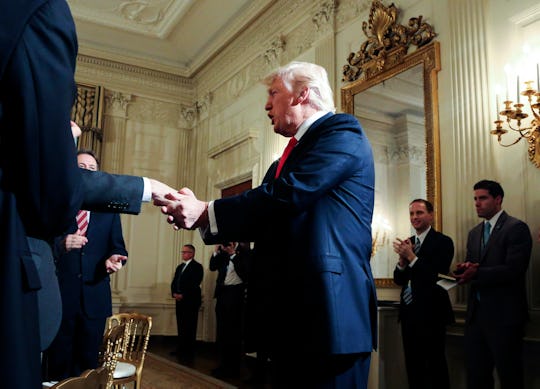 Pool/Getty Images News/Getty Images
Here's Who'll Be Protesting Trump's Joint Address
On Tuesday, President Donald Trump will make his first address to Congress, and reaction to the speech is certain to be anything but business as usual. Many people will be protesting Trump's State of the Union, all in a variety of ways designed to highlight how Trump's policies are hurting the country. The opposition will come from politicians, the children of immigrants, and even one of Trump's least favorite actresses. (No, not Meryl Streep.)
Trump is set to deliver his address on Tuesday night. It's actually a joint address to Congress rather than a State of the Union, since it's too early in Trump's tenure for that yearly speech. And while these sorts of addresses have attracted protest before — remember Rep. Joe Wilson shouting, "You lie!" at President Barack Obama back in 2009? — Tuesday's opposition will likely be significantly more organized than usual.
In general, lawmakers each get an extra ticket to the address, and many Democrats are planning on foregoing the typical route of taking a family member or significant other. Instead, they'll be bringing guests to represent the groups that Trump has been targeting, like immigrants, Muslims, LGBT people, and more. According to CBS News,
Democrats have invited the Iraqi-American doctor who discovered elevated levels of lead in the blood of many children living in Flint, Michigan; a Pakistani-born doctor who delivers critical care to patients in Rhode Island; and an American-born daughter of Palestinian refugees who aids people like her family in their quest to come to the United States.
So when Trump inevitably talks about how his policies (like his crackdown on immigration, his travel ban targeting Muslim-majority countries, and his reversal of Obama's protections for transgender children) are making America great again, he will have to do so in front of the people whose lives are actually being negatively impacted by them.
And that's not all on the protest front. While there's no planned boycotting of the speech like there was with Trump's inauguration, many Democrats are planning on abstaining from the typical handshaking bonanza, where the president shakes hands with lawmakers on both sides of the aisle as he walks to the front of the chamber.
And just in case all that wasn't enough, Rosie O'Donnell is getting in on the Trump protest action. The actress and comedian, whom Trump has previously called "fat" and "disgusting," among other things, will be leading a protest rally outside the White House in the hours before the speech. A news release for the "Resistance Address" says it will aim to "[send] a clear message outside of Trump's front door that his agenda does not represent the values of the American people."
It's sure to be an eventful speech. Make sure to set a reminder on your TV or phone — you won't want to miss the fireworks.