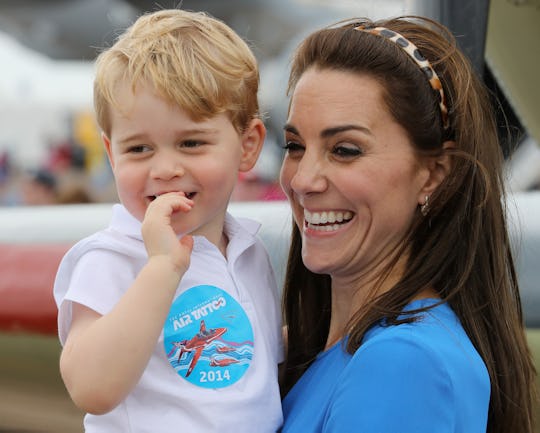 Chris Jackson/Getty Images Entertainment/Getty Images
Twitter Confuses UK Mother's Day For American Holiday
A trademark of holidays nowadays is sending your friends and family well wishes on one (or all) of your social media accounts. Whether it's a pretty picture of your decorated Christmas tree or a photo of your best friend on their birthday, celebrating these occasions on Instagram and Twitter is a new holiday tradition all its own. Social media is able to connect people living in different parts of the world on these special days, as well, which can apparently cause some confusion. A recent (and hilarious) example of this? Mother's Day falls on March 26 in the United Kingdom, two full months before Americans celebrate the holiday themselves, but on Sunday, tweets celebrating U.K. Mother's Day convinced panicked U.S. users that the American version of the holiday had crept up on them out of nowhere.
A number of British celebrities took to Twitter on Sunday to wish their followers a happy Mother's Day. "Happy Mothers Day to mums everywhere," J.K. Rowling wrote, "and a special hug to all the people missing theirs today." The Harry Potter author's words immediately sent many of her American followers into panic mode. (Nothing will make you feel worse than thinking you forgot to send your own mom a card on Mother's Day, after all.) After racing to call their mothers and beg for forgiveness, though, those freaking out discovered that they were actually two months early.
There is a reason that the U.K. version of Mother's Day falls in March instead of May. It's not just on a different day to send American children into a frenzy. Mother's Day is celebrated on Mothering Sunday, according to the BBC, which always falls on the fourth Sunday of Lent. Mothering Sunday began as a day when "children, mainly daughters, who had gone to work as domestic servants were given a day off to visit their mother." Over time it has evolved into a national holiday that celebrates mothers, much like the American version of the holiday.
The history of Mothering Sunday isn't widely known, though, especially in America. Daisy Alioto, a writer for New York Magazine, expressed exactly how many Americans were feeling after seeing all the Mother's Day well wishes. "UK Mother's Day gives me a heart attack every year," she posted to her account. Another Twitter user hilariously posted about his confusion, saying, "I was confused by these Mother's Day tweets until I realized the tweeters were all British and wrong."
Amid all the hilarious reactions and frantic phone calls to moms across the country, though, one tweeter pointed out that it's never a bad day to celebrate your mother. "It's not Mothers Day in the States, but honestly everyday should be Mother's Day," a Twitter user named Shaine wrote. "There's no kinda love like the love your mom has for you."
That's something everyone can agree on.