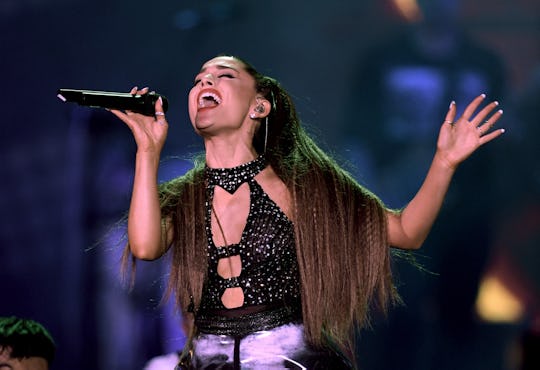 Kevin Winter/Getty Images Entertainment/Getty Images
People Think Ariana Grande Is Now Wearing An Engagement Ring, & OMG, It's Huge
Sorry, Meghan and Prince Harry — you guys are married now, and there's another reportedly engaged couple taking over. Rumors that Ariana Grande and Pete Davidson got engaged after dating for less than a month started dominating the internet on Monday night. And now, thanks to new photos of the pop star, people think Ariana Grande is now wearing an engagement ring — and WOWZA it is huge.
On June 2, Grande performed at the 2018 iHeartRadio Wango Tango in California. After TMZ and multiple other outlets reported that Grande and Davidson were engaged on Monday night, fans noticed something they hadn't before in the photos from Grande's Wango Tango performance. On the singer's left ring finger, she wore a sparkly diamond ring. Now, I'm not saying it's definitely an engagement ring, but if it's not, she had to have realized the message she was sending, considering she was in the midst of such a public, whirlwind relationship when she wore it, right? Grande and Davidson's representatives did not immediately respond to Romper's request for comment.
If you're into ring specs, Grande's sparkler is a large teardrop diamond on a diamond pave band, explained The Knot. It looks absolutely gorgeous, and if it really is her engagement ring, the Saturday Night Live comedian did a very good job ring shopping.
Grande actually wore three rings on her left ring finger at the Wango Tango performance. In addition to the so-called engagement ring, she wore two midi rings higher up on her finger. She also wore several other rings, including thumb rings on both hands. So perhaps she was just going for a blinged-out look on her hands?
Since June 2, Grande has posted several photos on Instagram in which her hands are visible. However, the ring alleged engagement ring is nowhere to be seen in the shots.
That being said, there are a bunch of photos Grande shared on Instagram over the past year, from before she and Davidson allegedly got engaged, in which she wore a diamond ring on her left ring finger. Though it's hard to tell, these all seem to be different diamond rings than the one she wore on June 2.
Rumors of Grande and Davidson's relationship first broke on May 12, 2018, after she attended a Saturday Night Live after party, Vulture reported. The two were both spotted with cloud-shaped iPhone cases that night. Days later, Grande posted a cloud emoji on Instagram, and a few more days later, Davidson posted a photo featuring a new cloud tattoo on his finger, Vulture reported.
By May 20, Davidson and Grande were spotted hanging at the Billboard Music Awards, and fans noticed what appeared to be a matching cloud tattoo on Grande's finger, Vulture reported. While all this was happening, Davidson confirmed that his two-year relationship with Cazzie David (Larry David's daughter) was over, Grande commented on her breakup with Mac Miller, and the cloud emoji got a serious workout on their Instagrams. On May 30, Davidson seemingly confirmed the new relationship with an Instagram photo of the Harry Potter-loving couple in Hogwarts attire.
Editor's Note: The Instagram post has since been deleted.
From then on, both Grande and Davidson continued to post photos, videos, and comments all over social media, giving fans a taste of their love for each other. Grande even joked that her Instagram was a Pete Davidson fan account in the caption of a very adorable picture of the pair.
Whether or not Grande and Davidson really are engaged, the couple is clearly not ready to comment on the rumors yet — and that's totally fine. At least fans can count on the couple's steady stream of Instagram photos to tide them over in the meantime.