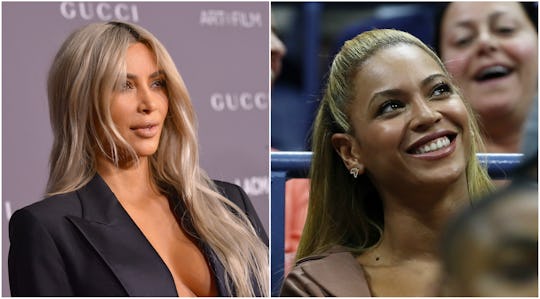 Charley Gallay/Getty Images Entertainment/Getty Images; Al Bello/Getty Images Sport/Getty Images
People Think Beyonce Is Throwing Shade At Kim K — Are Our Queens Feuding?
Beyoncé can do everything. From designing clothes to winning Grammy Awards to being a mom to her three kids, Beyoncé really can do everything. So it's no surprise that she can now add "rapper" to her resume. On Friday, Beyoncé debuted a new song with DJ Khaled and husband, JAY-Z called "Top Off" where she showed off her rapping skills and her clever lyric writing skills. People are taking note of those lyrics enough to think that Beyonce is shading Kim Kardashian in her new song and the answer to that is anyone's guess. Representatives for Kim Kardashian and Beyoncé did not immediately return Romper's request for comment.
Any new Beyoncé song is exciting on its own. Which is why people were a little surprised when DJ Khaled dropped this new track on Friday, "Top Off" featuring JAY-Z and Beyoncé off of his new album, Father of Asahd, according to XXL. Unlike Beyoncé's smooth R&B and pop hits from her previous albums and songs, she full on raps in this song, really showing off people that she can do anything. In the song, both Beyoncé and JAY-Z rap about all of the things going on in their lives — which is enough for some people to think that they're rapping about their reported "feuds," too.
In the song, Beyoncé raps that she is the "only lady here" and brags that she "breaks the internet/top two and I ain't number two. My body, my ice, my cash, all real, I'm a triple threat." Some people think that this is direct shade towards another celebrity and fellow mom of three, Kim Kardashian, and took to Twitter to speculate about all of the shade.
It's like Beyoncé planted a forrest of trees with all of the reported "shade" that she put towards Kardashian's way.
So why do people think that Beyoncé is "shading" Kardashian? In 2015, Kardashian appeared on the cover of Paper with a champagne glass balanced on her butt and the phrase "break the internet" pasted over her image. So people think that Beyoncé's use of "break the internet" in her lyrics directly refer to that. And when Beyoncé rapped that her body is "all real," people thought that that was in reference to Kardashian, too. In the past, Kardashian has been open about the fact that she has received Botox treatments but has been adamant that she has not been under the knife for other plastic surgery procedures, according to E! News.
And if you were confused about this reported feud in the first place, here is a bit of a refresher. Beyoncé and Kardashian have never flat out said that they don't like each other, according to Cosmopolitan, but based on the fact that they're not photographed together all the time or constantly gushing about each other in interviews has led people to think that they're feuding. In 2013, Kardashian even addressed the rumors herself. During an appearance on the radio show, Sway In The Morning, Kardashian said, according to MTV:
It's so not true. One of the sweetest people I have ever met. She's so sweet. I have no idea where these things come from. I think they make these feuds up. It's more interesting.
If were even a little skeptical about their reported bad blood, there's a reason it could just all rumors. Just recently, during Serena Williams' wedding in November, Kardashian and Beyoncé were "more than cordial," according to TMZ. Both of them reportedly "hugged" and "showed off" pictures of their kids to each other.
Sometimes, rap lyrics are just rap lyrics and don't have to have a hidden meaning. Beyoncé could have just wanted everyone to know that she is real and so is her cash (as if they had any doubts). But until Kardashian or the "Queen Bey" herself comes out and addresses these lyrics, these theories from fans will have to do.
Check out Romper's new video series, Bearing The Motherload, where disagreeing parents from different sides of an issue sit down with a mediator and talk about how to support (and not judge) each other's parenting perspectives. New episodes air Mondays on Facebook.